Rand Paul Visits Charleston, But Is Cautious on Walter Scott Killing
As the city talks about a killing, Paul stays on script.
by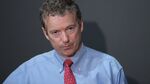 NORTH CHARLESTON, S.C.—At around 11 p.m., after the vigil for Walter Scott had ended and as national news networks packed up their gear, a few black men remained in the parking lot near city hall. There had been rallies all day, and there'd be rallies tomorrow—the black caucus was organizing something, as was Black Lives Matter, as (maybe) was Al Sharpton. Representative Mark Sanford, whose safe Republican seat began just down the highway, had even showed up earlier to one of the events. The news of Kentucky Senator Rand Paul's visit, the third stop of his presidential announcement tour, had been not been on many minds. But it was an intriguing story.
"If he's running for president and standing on this soil, he better make a statement," said a radio host for the local hip-hop and talk station 93.3 who went by DJ Kass. "I'd ask if he's got an opinion of what happened. At the end of the day, a black unarmed man was killed. He should have an opinion."
Chris Cason, a local activist, wanted an even clearer answer.
"Does he think that was murder, what happened?" he asked. "There you go. Simple."
If any Republican candidate for president was apt to wade into the Walter Scott story, it would be Paul. Since 2013, he'd sought out partners in black communities from Michigan to Maryland and talked about sentencing reform and restoring voting rights to felons. He let people know it. In his stump speech, and in subsequent speeches, Paul's called for an end to all laws with racially discriminatory outcomes, and quoted Martin Luther King to tell mostly-white audiences that there are "two starkly different American experiences that exist side by side," and that they live in the one spared from want and fear.
On his trip to the Charleston area, Paul largely stayed out of the way. In interviews with CNN and Bloomberg News, he was careful not to analyze the standoff, recorded by a cell phone camera, that ended with Walter Scott being shot in the back while running away from Officer Michael Slager.
"It's just a terrible tragedy, and I hope justice does occur," Paul told CNN's Wolf Blitzer in a Wednesday night interview. "But I do think that sometimes the way we report news, we tend to report the news of crime, and so we see a lot of crime, and we think it's representative of the whole. And I think when you look at police across our country, 98, 99 percent of them are doing their job on a day-to-day basis and aren't doing things like that."
Paul's cautiousness was tempered by experience. In the summer of 2014, Paul reacted to clashes between police and protesters in Ferguson, Missouri with a Time magazine column calling for the end of police militarization.
"If I had been told to get out of the street as a teenager," Paul wrote, "there would have been a distinct possibility that I might have smarted off. But, I wouldn't have expected to be shot."
Sharp-elbowed lobbying from police unions scuttled the anti-militarization campaign. The Department of Justice's investigation into the killing of Michael Brown revealed that he did not have his hands up when Officer Darren Wilson shot him, tarnishing one of the moral cries of the post-Ferguson justice movements. In speeches given before his campaign launch, Paul would sometimes aver that people still disagreed about what happened between Brown and Wilson.
"I'm a great advocate for justice," Paul told Bloomberg News today. "Justice needs to be colorblind. That needs to be true whether you're a policeman or not a policeman. Nobody's above the law. The problem with commenting too much on the details of a specific instance is, you know, you don't know all of the facts. That's why we have a judicial system. But from first appearances it's pretty horrific, what the video shows."
In his interviews from North Charleston, Paul attempted to broaden the topic from one community-rattling tragedy to what the government could do to prevent them. At times, his ideas ran up against the sturdy castle of his libertarian federalism. He told CNN that he did support body cameras for police officers, but cautioned that he was "not big on telling South Carolina what to do or big on telling Kentucky what to do." Paul was a little more expansive when telling Bloomberg News about the need for the government to intervene and collect statistics on incidents where citizens were shot by police.
"There hasn't been a tracking of deaths and whether there's a racial problem," Paul said, mentioning legislation he passed last year to require the government to start collecting stats. "We wanted them to count up and find from police shootings what the racial statistics or proportion are, how frequently they're happening, and whether they're happening more frequently than in other police departments. And we did it with money that's already going out."
Asked what he, as president, would immediately do to reform the justice system—what executive orders, what missions for the DOJ—Paul suggested that he'd review individual cases of people unjustly imprisoned.
"One thing President Obama has done, and I would continue, is to look for cases where an injustice has been done and allow for clemency or pardon," said Paul. "He's taken some of the people who basically were put in jail for decades for crack cocaine usage, whereas for powder, for the same amount, were given six months, a year, or a slap on the wrist. I'd try to make it such that states were able to move further with either sentencing reform or changing their war on drugs laws to make them more just."
On Thursday morning, after the interviews, Paul headed south and east of Charleston to Mount Pleasant, where the decommissioned USS Yorktown would serve as the backdrop to a campaign speech. As they queued up for the speech, some of the conservatives and curious voters could be heard talking about the Walter Scott aftermath. There was really no controversy.
"They're on the right path, they did what they should have," said Tristan Klintworth, a college student who'd backed Ron Paul for president in 2012. "I just don't know if they'd be on path if someone hadn't been hiding in a bush and taking video. From what I've heard of the North Charleston police I don't think so."
Fred Klintworth, Tristan's grandfather, interjected with his views. "This will cause change," he said. "The way Americans are, an incident needs to occur, because we're all too busy doing other things. Ferguson was an example of that."
"I don't think any of us want to be compared to Ferguson," said Tristan.
"But there's probably more of this than people admit," said Fred.
Before Paul spoke, a succession of allies and endorsers took the podium to praise his boldness. "With the tragic events of Walter Scott and all that's gone on since this weekend," said Mark Sanford, "it's a vivid reminder of how important it is to have someone watching even those in authority." No one, he said, had stood out like Paul.
Yet Paul had intended the Charleston speech to be an argument for his foreign policy, a rebuttal literally framed by a symbol of military power. He stayed subtle about the story everyone was talking about.
"We shouldn't let the liberals take the word 'justice,'" said Paul, using a line that hadn't appeared in his tour's other speeches. "We need to be the party of justice."
After the speech, the Associated Press led its recap with the fact that Paul had not mentioned Walter Scott. He would leave the Yorktown and return to Charleston over the Arthur Ravenal Bridge—just as protesters announced that they'd stage a protest on it, asking for justice for Walter Scott.
Before it's here, it's on the Bloomberg Terminal.
LEARN MORE