Rand Paul's 'I Paid for This Microphone' Moment
The candidate's answer on abortion wasn't a stumble at all.
by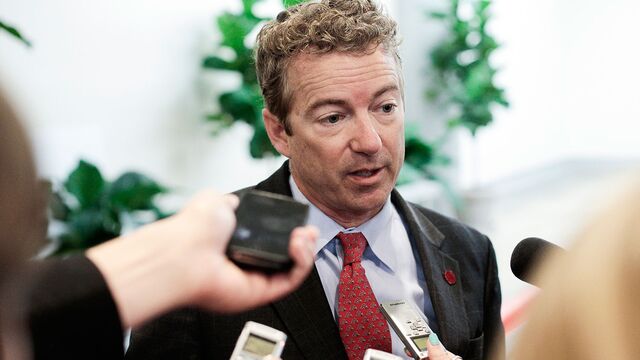 NORTH CHARLESTON, S.C. –On Wednesday afternoon, the preferred media narrative of the Rand Paul campaign was set. The Kentucky senator was "prickly," possessing the same unpresidential character trait that sank Howard Dean 11 years earlier. He could not and would not hide his contempt for some questions from the reporters asking them. In the space of a few hours he chastised an Associated Press reporter for a series of abortion queries, and he told Today co-host Savannah Guthrie that she was "editorializing" in the way she asked about his evolving foreign policies. He told the New York Times and CNN that, no, he didn't consider some of the questions he got to be "journalism."
Meanwhile, on the right, Paul was experiencing some of his best, warmest press since his 2013 drone filibuster. The reason was the pugnacious pro-life answer he gave at Wednesday's availability in New Hampshire, when asked to clarify his abortion views.
"Why don't we ask the DNC: Is it OK to kill a seven-pound baby in the uterus?" asked Paul. "You go back and you ask Debbie Wasserman Schultz if she's OK with killing a seven-pound baby that is not born yet."
At LifeNews, Steven Ertelt transcribed Paul's answer and declared that he'd "turned the typical question on abortion exceptions around in the most amazing way." Ertelt's analysis has been shared more than 5,000 times on Facebook. The Daily Caller reported that Paul had done something "new and refreshing"–more than 8000 shares for that spin. The Daily Signal's version of the story scored more than 1,000 shares. At HotAir, the Paul answer kicked off a discussion thread riddled with praise for the senator.
"Paul was smart enough to force the media to place scrutiny on the Democrats' hard cases on abortion," surmised Scott McKay, the publisher of the Louisiana conservative politics site the Hayride. "No Republican should ever get an abortion question without parroting everything he just said."
Paul's script-flip was exactly what the pro-life Susan B. Anthony List PAC had been advising Republicans to do since 2012. On Wednesday afternoon, the PAC put out a statement from President Marjorie Dannenfelser, telling reporters that "Rand was right," and that "the current abortion debate is centered on a highly reasonable proposal to protect children after 20 weeks, or five months of pregnancy – the point at which they can feel excruciating pain." 
Paul wasn't just deflecting the question. He had asked for, and received, DNC Chair Debbie Wasserman Schultz's own stance on abortion. "I support letting women and their doctors make this decision without government getting involved," she said. "It sounds like her answer is, yes," Paul said in his CNN interview. "She's OK with killing a seven- pound baby." He knew, as conservatives knew, that the ban on abortions after 20 weeks of pregnancy was a majority position.
Some politicians have warm, back-slapping relations with the press; some can dodge questions while maintaining poker faces. Rand Paul may never be that kind of politician. But his abortion answer was not a stumble. It may have been his analogue to the moment Ronald Reagan fought for his microphone at a Nashua, N.H. candidate forum–not a gaffe, but a moment of harmony with the base.
Before it's here, it's on the Bloomberg Terminal.
LEARN MORE