Donald Trump Says He's Different than Rick Santorum Because He Has a 'Big Plane'
The reality show host and real estate developer gave reporters a tour of his jet this week.
by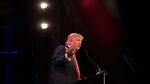 To paraphrase Sigmund Freud: sometimes a plane is just a plane. 
Speaking to reporters at the Des Moines airport on Wednesday, reality television show host and prospective Republican presidential candidate Donald Trump distinguished himself from potential rival Rick Santorum. 
"I have a big plane," Trump said while giving a tour of said jet, the Des Moines Register reported. "He doesn't."
The comment came during a discussion of whether Trump would, like Santorum in 2012, campaign in all 99 Iowa counties should he decided to run for president this year. 
"Rick and I are very different people, and I don't think people would expect that of me," Trump told reporters, adding that he currently has a full-time job. 
On Tuesday, Trump's representatives announced that he had hired three more staff members in Iowa, another sign that the real estate developer may be leaning toward hopping into the 2016 race. While the billionaire has stated that he would self-fund his campaign if he does make a run for the White House, money is no guarantee of a victory in the Hawkeye State. In 2012, Santorum won the Iowa caucuses, defeating much better funded rivals. 
Santorum has also yet to announce whether he plans to run again, but seems undaunted by Trump's aircraft advantage. 
"I flew to O'Hare airport and my plane was canceled, so I took a cab to Midway and took a Southwest flight," Santorum told reporters Wednesday. 
Before it's here, it's on the Bloomberg Terminal.
LEARN MORE