Clinton, Paul, O'Malley and Walker Weigh in on South Carolina Shooting
The reactions follow condemnations from South Carolina's lawmakers.
by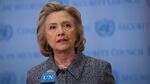 Three potential presidential candidates –Hillary Clinton, Martin O'Malley, and Scott Walker–all have tweeted messages in support of Walter Scott, the South Carolina man who was killed by North Charleston police officer Michael Slager, and his family. 
Their tweets Wednesday afternoon and evening came as many of South Carolina's political leaders, including possible presidential contender Senator Lindsey Graham, uniformly condemned the killing. 
O'Malley, the former governor of Maryland, was the first to weigh in, tweeting in the early afternoon.


He sent another tweet right after, saying, "This video is appalling but it shows why accountability & transparency are so important. It shouldn't take a video to ensure justice." 
Clinton tweeted a little before 11 p.m. Tuesday night.


Shortly after, Wisconsin Governor Scott Walker, a possible Republican candidate, tweeted a clip of himself addressing the shooting on Fox News's Sean Hannity Show, saying:
Rand Paul, the Republican senator from Kentucky who on Tuesday announced his presidential candidacy, also talked about the shooting Wednesday on CNN's  Situation Room. Paul called the situation a "terrible tragedy," but warned against rushing to judge all law enforcement officers. 
"I want to be careful we don't paint with a broad brush that somehow all our police are bad," Paul said.
Before it's here, it's on the Bloomberg Terminal.
LEARN MORE