Biden Says Momentum Is Turning Against Islamic Militants in Iraq
Mike Dorning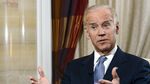 U.S. Vice President Joe Biden gave an upbeat assessment of the Iraqi government's fight against Islamic State militants, defending the administration's strategy ahead of Iraqi Prime Minister Haider al-Abadi's Washington visit next week.
"It's not over yet, but the momentum is in the right direction," Biden said Thursday in a speech at National Defense University in Washington. The Islamic State's "aura of inevitability has been pierced."
Biden cited battlefield victories against militants including the Iraqi government's recapture of Tikrit this month as evidence of progress.
He also highlighted signs the new Abadi-led government has improved its dealings with minority Sunni Arabs and Kurds since militants captured a swath of Iraqi territory including the nation's third-largest city, Mosul, which the rebels still hold.
U.S. officials pressed for the replacement of former Iraqi Prime Minister Nouri al-Maliki after the Islamic State's rout of the Iraqi army in Mosul and across northern Iraq last year. The Obama administration criticized Maliki for sectarian favoritism and corruption.
Abadi, Maliki's successor, will meet with President Barack Obama at the White House next week.
Biden said the Shiite-led government's key steps to overcome sectarian and ethnic divisions have included a deal on oil production reached in December with the self-ruled Kurdish region in the north and distribution of weapons to predominantly Sunni national guard units to fight the Islamic State.
'Significant Progress'
The common threat of the Islamic State "has led to significant progress and the chance, the chance, of a long-term unity government here," Biden said.
Iraqi army units and police joined with Sunni tribes and Shiite militias this week in an offensive to dislodge Islamic State forces from the Sunni-majority Anbar province west of Baghdad after the recapture last week of the northern city of Tikrit.
A number of U.S. military officials and diplomats are less optimistic, saying the extremists are a powerful ideological movement that continue to exploit the Iraqi government's failure to overcome persistent sectarian, ethic and tribal rivalries, end official corruption and repair dysfunctional institutions. The officials, all of whom are involved in overseeing Iraqi policy, requested anonymity to discuss views that differ from those expressed by Biden.
Broader Effort
Anthony Cordesman, a military analyst at the Center for Strategic and International Studies in Washington, said the battle to defeat Islamic State fighters won't bring stability to Iraq without a broader effort to address the war-torn country's ethnic and religious divisions, poverty, unemployment and corruption.
"There are no real plans for a meaningful post-conflict outcome, no real assessments of risks and probabilities, and no real effort to define and provide credible resources," Cordesman said in a report last month. "They are goals that both the Obama administration and Congress must address in order to have any lasting success, and so far they both are dismal failures."
Iraq last year ranked 170 out of 175 nations in Transparency International's worldwide corruption index.
After disbanding the Iraqi army following the 2003 invasion, the U.S. spent more than $25 billion through fiscal 2012 to build a new force, according to a report from the special inspector general for Iraq reconstruction.
Flee Battlefields
Yet several Iraqi divisions collapsed under Islamic State attack last year, with soldiers shedding their weapons and uniforms and fleeing the battlefield.
The Pentagon blames Maliki for politicizing the security forces, replacing qualified Sunni officers with his own Shiite supporters, and skimping on training after the 2011 U.S. exit.
In December, Abadi said the army's ranks under Maliki had been inflated by 50,000 nonexistent "ghost soldiers," whose paychecks were pocketed by corrupt commanders.
Now, the U.S. and its European allies are retraining Iraqi soldiers at four facilities. Nine Iraqi and three Kurdish peshmerga brigades are being trained for an offensive against the Islamic State militants.
The U.S. invasion of Iraq, which began in 2003 based on faulty claims that former Iraqi dictator Saddam Hussein had amassed stockpiles of chemical and biological weapons, has cost more than 4,400 U.S. lives and wounded more than 32,000 troops.
The war's price tag, including reconstruction and veterans' health care, reached $815 billion as of last year, the Congressional Research Service estimated.
Before it's here, it's on the Bloomberg Terminal.
LEARN MORE