How to Be Black and Successful in America
A new Michelle Obama biography shows how the first lady embodies a highly specific version of the American dream.
by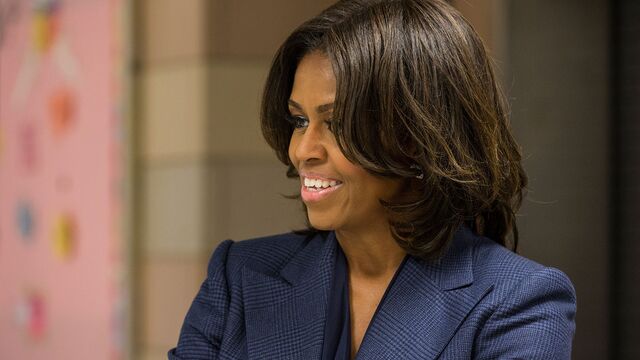 If the Barack Obama story is about carving out an identity from a multicultural, biracial upbringing with an absent father, then the Michelle LaVaughn Robinson story is about how to be black and successful in America, as well as how to be successful and black. In other words: How does a black girl from South Side of Chicago get to Harvard Law School and, once she's there, how does she determine what her responsibilities are to her community, and what her relationship should be to the wider world? 
In his new biography of the first lady, Michelle Obama: A Life, Chicago-based journalist Peter Slevin traces the story of the Robinson family from the 1930s, when Fraser Robinson Jr. left South Carolina for Chicago and the promise of more equal opportunities to the present where, for many years, a picture of a black child touching the hair of the first black president hung on the walls of the West Wing. It paints a picture of a woman who had to learn what it means to be a black woman in elite, white worlds, and determine for herself whether there is a white and black America, or just one.  


"I thought she merited a book that placed her at the center of her own narrative, not simply 'wife of,'" Slevin said in an interview with his publisher. "I wanted to know what Michelle set out to accomplish, and why." 
Michelle Obama spent the first 18 months of her life in Chicago's Parkway Garden Homes. At a time when lending and housing discrimination prevented black Americans from buying homes on decent terms, Parkway Gardens allowed blacks to put down a down payment and pay a monthly rent under market value. Civil rights leader Mary McLeod Bethune called it "the opening of a new frontier of progress." 1 "Michelle Obama: A Life" page 23
Slevin pulls out several moments where the story of Chicago's gradual improvement for blacks overlaps with Michelle Obama's biography. The segregated beach where NAACP protesters had rocks thrown at them during a "wade-in" in the 1960s became the beach Obama would ride her bike to in the mid-1970s. The integrated magnet high school she attended was named for Whitney Young, "a black man born into segregation in Kentucky," Slevin wrote. The South Shore Country Club, which banned black and Jewish members during Michelle's childhood, hosted her wedding reception in 1992. In this sense, her life story charts the progress of the civil rights movement, a triumph of the ameliorative impulse.
Michelle Obama's success is a direct result of those societal advancements, but she has also made the case for her childhood, and adults who instilled in her and her brother "a larger message fundamental to their upbringing," Slevin writes. It's a venerable African-American ideology, a necessary survival strategy, but also a kind of a moral argument about human possibility. He continues:
The message was rooted in a paradox that required elders to hold two seemingly contradictory ideas in mind simultaneously. One was that the playing field was tilted away from their children because of their race and class. The other was the conviction that a combination of love, support, perseverance, and upright living could win out.
Slevin writes that, in a speech in South Carolina, which Michelle gave during her husband's first presidential campaign, Michelle described it as the dual existence of the "veil of impossibility" that keeps black people and their children down, and the lesson from her childhood "that my destiny was in my hands."  
That destiny led her to Princeton and Harvard Law School and a post-graduate career that forced her to grapple with her new class identity. Once she graduated and began working for a Chicago law firm, "[b]y education and affiliation, she was now a certified member of the elite, and from her first day on the job, she was earning more money than her parents combined," Slevin writes.
Michelle started reconciling her South Side upbringing with her Ivy League education while she was a senior at Princeton, where she explored in her senior thesis whether successful black graduates—including herself—would reach back and help lower class blacks in communities like the one she grew up in. She surveyed 400 black Princeton alumni about their attitudes towards lower class black Americans, whether they could be helped, whether the alumni felt they'd betrayed black people, or were ashamed of them.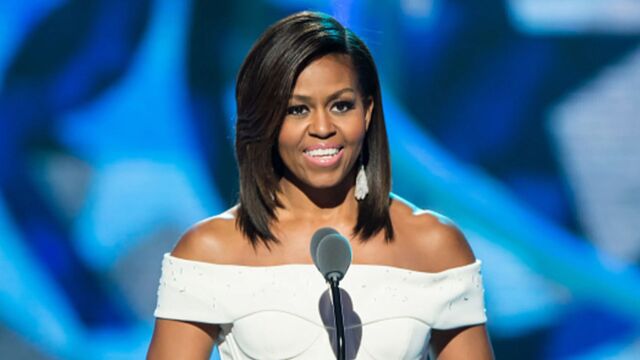 Her thesis, Slevin writes, "was built on twin truths … The first was that some black people were making their way to ever higher rungs on the ladder. The second was that vast numbers of black people were being left behind." She discussed different schools of thought on black identity, some arguing that group solidarity among blacks was the only way for the black community to enter society, while others argued for the importance of "representative integration," or the integration of black politicians.
That has been the central issue of her husband's presidency—what can a black president do for the black community? In her professional life, Michelle has drifted toward jobs where she mentors the next generation—she left a six-figure law firm to work for City Hall, and left that job to mentor young people working as public servants. In the White House she's focused on encouraging minority children to get an education and, more importantly, to reach for something greater than their circumstances appear to allow.
It's the same ideology her parents had—the legacy of racism, far from gone, versus each child's ability and responsibility to shape her future—but she, like every Robinson generation before her, has had ever stronger examples of what minority children can achieve.
At the same time, she has a history of the "excuses" that she could have used to stay back. The Whitney Young counselors who told her she was reaching too high with Princeton. The southern roommate her freshman year who's mother tried to get her a white roommate. The slow, slow march towards diversity of the Harvard Law School faculty. In her Princeton thesis, Michelle Robinson wrote that "White cultural and social structure will only allow me to remain on the periphery of society, never becoming a full participant." She may not think that now—as she once, notoriously, said, she was "proud" of her country for the first time when her husband ran for president—but she never stopped thinking that opportunity is something that the black community has to take for itself from hands that aren't always willing to give. 
You see it when she talks to kids now. During an august 2014 speech at Booker T. Washington in Atlanta, Obama told the kids that they were part of "a legacy of progress and a responsibility to better themselves and their families" given by Booker T. Washington and Martin Luther King Jr. "If there's anybody telling you that you're not college material—anyone—I want you to brush 'em off," she said. "Prove them wrong."
Before it's here, it's on the Bloomberg Terminal.
LEARN MORE