Ferguson Voter Turnout Reaches Highest Since 1999 After Unrest
Elizabeth Campbell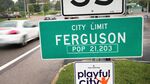 Voter participation reached the highest level in 16 years in Ferguson's first local election since the St. Louis suburb became a national symbol for racial unrest with the killing of a black teenager by a white police officer.
Tuesday's turnout was about 30 percent, the most since a statewide referendum was on the ballot in 1999 on whether to allow the carrying of concealed weapons, said Eric Fey, director of elections for the St. Louis County Board of Election Commissioners. That compares with about 16 percent countywide.
"I'm grateful to the residents that turned out in massive numbers to make history for the city of Ferguson," Councilman Dwayne James, who is black, said in an e-mailed statement from the city. "This historic opportunity gives the city a chance to reflect the true diversity of the community."
The election marked the first chance at citizen-led change for the Missouri city of 21,000 since riots in August following the fatal shooting of 18-year-old Michael Brown. With three city council seats on the ballot, two black residents won, making the council the most diverse in Ferguson's 120-year history.
Wesley Bell, 40, and Ella M. Jones, 60, will join the council, according to unofficial results on the St. Louis County Board of Election Commissioners' website. Their election triples the number of blacks on the council from one to three.
Brian P. Fletcher, 55, who is white and previously served two terms as mayor, defeated another white candidate.
Ferguson's council consists of six members and the mayor. The body is charged with hiring people to run Ferguson's operations and enforce its laws.
Before the election, civic groups ran registration and education drives, and the number of registered active voters in Ferguson rose about 5 percent since Aug. 1, county data show.
Before it's here, it's on the Bloomberg Terminal.
LEARN MORE