Rahm Emanuel Re-Elected as Mayor of Fiscally Ravaged Chicago
Tim Jones and Elizabeth Campbell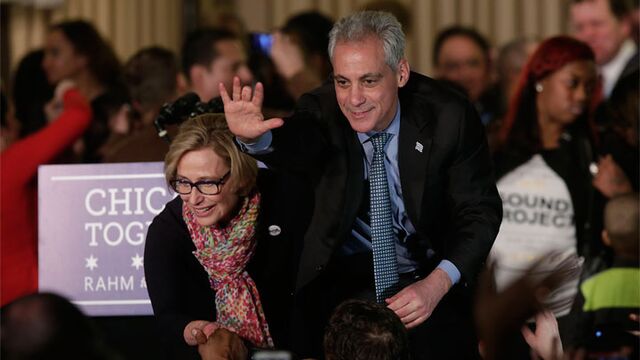 Chicago Mayor Rahm Emanuel outdistanced a lesser-known challenger to win a second term and the daunting prize of steering the third-most-populous U.S. city away from financial collapse.
Emanuel, a former chief of staff to President Barack Obama, had 56 percent and Cook County Commissioner Jesus "Chuy" Garcia had 44 percent with 96 percent of precincts reporting Tuesday, according to the Chicago Board of Election Commissioners.
The campaign, the first runoff since Chicago switched to nonpartisan elections in 1999, was shadowed by the prospect of insolvency. With the city burdened by $20 billion of unfunded pension debts, Emanuel has scant opportunity to celebrate.
"In an era of hard choices, I can't promise that everybody will be pleased with every decision," Emanuel, his voice hoarse, told supporters Tuesday night at a plumbers union hall. "But the challenges we face, we face together as one community, one city, one voice where every voice counts."
Although the specter of fiscal ruin hangs over the city, the candidates offered few specifics during the six-week campaign about how they'd resolve the crisis. Under state law, Chicago is required to pay $600 million next year into pension funds. The source of that payment is unknown.
'Growth Crisis'
Emanuel, 55, and Garcia each endorsed broadening the sales tax to include some services, and the incumbent endorsed the construction of a casino with revenue dedicated to pension debts. Both those plans, though, would require legislative approval. Neither man committed to raising property taxes, the levy the city directly controls.
Garcia used his concession speech to laud Chicago as a city that nurtures immigrant children like him and said attracting new residents was the key to overcoming its challenges.
"Yes, we have a debt crisis and a pension crisis. But that's because of the one thing: We have a growth crisis," he said, noting Chicago's decline in population, which fell 6.9 percent to 2.7 million from 2000 to 2010. "We can't tax our way out of this crisis. We can't keep borrowing our way out of this crisis."
Some investors in the $3.5 trillion municipal market now treat Chicago's debt as speculative grade. The burden weighing down the city totals $32.6 billion when liabilities of its park district, water agency and school board are included.
Almost Junk
Moody's Investors Service cut the city's $8.3 billion of general obligations to Baa2 last month, two steps above junk, citing the retirement expenses. Chicago can't reduce workers' retirement benefits without legislative approval.
The campaign mirrored the national debate on income inequality. Drawing the financial support of public employee unions, Garcia, 58, charged that Emanuel governed with his ear attuned to the needs of the city's downtown corporate elite while ignoring neighborhoods.
Emanuel shrugged off the charges, saying a longer school day that he championed and his backing of a $13 minimum wage were part of a broader revitalization strategy.
The "Two Chicagos" theme that Garcia sought to cultivate was reflected in the amount of money the campaigns tapped. Emanuel raised more than $18 million in his bid for a second term, compared with about $4 million by his challenger.
Runoff Lessons
Jeffrey Redding, 52, a state worker from the South Side who attended Emanuel's election-night party, said he thought the mayor had learned from being forced into a runoff.
"People should see the wisdom in the experience he has," Redding said as returns came in. "He's seen some of the changes he needs to make to be a better mayor, and you'll see that the next four years."
Garcia's supporters were less certain. "Rahm, if he listens to people, I've never seen it," said Frank Gagliardi, 73, who wore a "Chuy" pin to the candidate's election-night headquarters.
Voter dissatisfaction with persistent crime and the closing of 50 public schools, both in mostly minority neighborhoods, led to Garcia's forcing Emanuel into the runoff.
Garcia, a little-known Cook County commissioner and former alderman and state senator, was thrust into the role of opposition voice when Karen Lewis, president of the Chicago Teachers Union, chose not to run after being diagnosed with cancer. She urged Garcia to enter the race, and he quickly won the backing of her union.
With Emanuel scheduled to be sworn in again next month, attention will turn to an anticipated Illinois Supreme Court ruling on the legality of changing benefits provided by the state retirement systems.
Chicago's pensions aren't involved, but the outcome is expected to guide how the city resolves its crisis. The decision could provide relief or make the challenge still harder.
Before it's here, it's on the Bloomberg Terminal.
LEARN MORE