Ben Carson Wades Into Hostile Territory at Al Sharpton Event
The retired neurosurgeon and Republican didn't shy away from his conservative positions.
by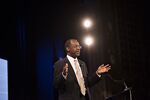 Ben Carson, the black Republican and potential presidential candidate who once told Barack Obama his health-insurance plan was the worst U.S. policy since slavery, was an unlikely guest speaker Wednesday at Al Sharpton's National Action Network.
Appearing in Manhattan at the annual meeting convened by Sharpton, the civil-rights leader and an Obama ally, the conservative Carson stood out in a crowd of progressive activists promoting housing subsidies, redistribution of wealth, gay rights and punishment for police brutality.
"We need to talk about stuff we don't talk about, we need to talk about the fact that 73 percent of our babies are born out of wedlock," Carson told the mostly black audience. "And that baby is four times as likely to grow up in poverty. Unless we talk about it, nobody else is going to talk about it."
The retired surgeon drew applause when he rattled off the names of more than 25 black men and women who never appeared in his history books, yet changed modern life with accomplishments in technology, medicine and business. He advocated a health savings system for people who are working and for poor people instead of Medicaid, which he said costs about $5,000 per patient.
"We need to use the money in an intelligent way" by giving poor people health savings accounts, Carson said.
Boos to Laughs
Carson, 63, rose from poverty to national acclaim as a neurosurgeon at Johns Hopkins Hospital, a life story that spawned a best-selling memoir and made-for-TV movie. He has espoused traditional Republican credos favoring individual responsibility over government action; advocated a flat-tax akin to religious tithing; described homosexuality as a choice; and compared government growth in the U.S. to life in Germany under the Nazis.
In the morning, several hundred people who filled a midtown hotel ballroom booed when Sharpton announced that Carson would speak.
"I think Dr. Carson and I don't even agree today is Wednesday," Sharpton said, defusing the crowd's derision with laughter. "We're going to show we can listen and we make intelligent decisions. You cannot deal with putting things on the agenda in 2016's election unless those that are running can be heard—and they have to hear us."
Differing Views
Aside from Carson and former Republican Party Chairman Michael Steele, most of Sharpton's invitees hold views closely aligned with him. Among those attending were U.S. Senator Bernie Sanders of Vermont, an avowed socialist; New York Mayor Bill de Blasio, a self-described progressive; the daughters of the slain civil-rights leader Malcolm X; and relatives of five black males who have died in fatal encounters with police.
One panel discussion focusing on homophobia in the black community featured gay, lesbian and transgendered participants.
In March 2013, Carson told Fox News television host Sean Hannity "marriage is between a man and a woman. It's a well-established, fundamental pillar of society and no group, be they gays, be they NAMBLA, be they people who believe in bestiality. It doesn't matter what they are. They don't get to change the definition."
Carson later said he regretted offending people with that and other remarks about homosexuality, while retaining his opposition to same-gender unions. Later in 2013, shortly before he retired, Carson canceled an appearance as commencement speaker at Johns Hopkins University after students opposed his presence there.
"I don't hate gay people," he said at Sharpton's event. "I don't care what any man says. I care what the Bible says."
Before it's here, it's on the Bloomberg Terminal.
LEARN MORE