The Paul Family Inheritance Index
Just how many positions, ideas, proclivities, etc., has Ron passed on to his son Rand?
undefined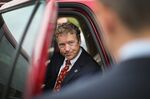 Rand Paul's father Ron is possibly his greatest strength—and his greatest weakness. The bracing clarity of the elder Paul's libertarian ideas has won him passionate acolytes in important primary states, some of which Rand is in line to win. But, as political ideas, they're not always scalable. But as the below list shows, there's definitely a family resemblance. 
Iran: Ron Paul once called sanctions on Iran "acts of war"; Rand Paul has voted for sanctions and has said that "all options should be on the table to prevent them from having nuclear weapon."
The Fed: Ron Paul introduced the Federal Reserve Transparency Act in 2009 and again in 2012, when it was passed by the House; Rand Paul introduced the same bill in the Senate this year, which is currently in committee.
The IRS: Ron Paul supported the elimination of the IRS and the income tax entirely; Rand Paul has called for abolishing the current tax code and replacing it with a flat 17 percent tax rate.
The military: Ron Paul wanted to close all foreign military bases; Rand Paul introduced the Audit the Pentagon Act this year and clarified that reform should include shuttering overseas bases although "I'm not saying don't have any."
Health care: Ron Paul has claimed Medicare and Medicaid are unconstitutional and refused to accept either in his medical practice; Rand Paul as a Senate candidate in 2010 claimed half his patients are on Medicare and that the government shouldn't cut the program.
Bestseller list: Ron Paul is listed as the primary author of 13 books on Amazon, with more than 3,000 combined reviews; Rand Paul has two titles to this name, with 200-plus reviews, but is reportedly on work on a third book. 
Popularity contest: Ron Paul won the CPAC straw poll twice (in 2010 and 2011); Rand Paul won the CPAC straw poll in each of the past three years. 
Freedom percentage: Ron Paul's latest score on The New American's Freedom Index was 100 percent (112th Congress); Rand Paul's latest more recent index score was 93 percent (113th Congress). 
Before it's here, it's on the Bloomberg Terminal.
LEARN MORE