The Democratic Frenemies of Rand Paul
In a historically polarized Washington, the Kentucky senator has attracted praise from unlikely sources.
undefined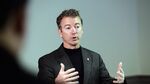 Many pay lip service to bipartanship—but more than any other senator in recent memory, Rand Paul has walked the walk. Below, a few Democrats he's walked it with. 
—Outgoing Attorney General Eric Holder on Paul: "We agree on more things than people would expect."
—Senate Minority Leader Harry Reid on Paul, following his eye injury: "[He] has been so kind and thoughtful and considerate in visiting with me, giving me encouragement and some expert advice as to what he's seen in the past, and given me hope for better sight in my right eye and I really appreciate it very, very much."
—Reid on Paul's voting rights act: "I want to congratulate Rand Paul, the junior senator from Kentucky. … I hope I don't get him in trouble with the Republican caucus for congratulating him. This is something that is long overdue."
 —Oregon Senator Ron Wyden on Paul's filibuster: "It's my view that the senator from Kentucky has made a number of important points."
 —President Barack Obama referring to Paul's 2014 CPAC speech: "Rand's an interesting guy. No, he is. ... Rand Paul said that the Republican Party is to show up on the south side of Chicago and shout at the top of its lungs that the GOP is the ticket to the middle class. ... I guarantee you that Senator Paul would be welcome there. We are a friendly bunch. I mean, it's a little strange if people show up and just start shouting at the top of their lungs, but we're friendly and it would be OK." 
CORRECTION: An earlier version of this post should have identified Eric Holder as the outgoing, not former, attorney general.
Before it's here, it's on the Bloomberg Terminal.
LEARN MORE