Rand Paul Disses Romney and McCain, Says 'Somebody is Worried About Me'
The Kentucky senator let it be known that he is no Mitt Romney or John McCain.
by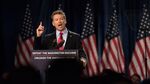 Kentucky Senator Rand Paul spent the day he entered the presidential race simultaneously casting aspersions and looking over his shoulder. 
In an interview with Fox News' Sean Hannity, Paul was asked about a recent attack ad that compared him with President Obama on the subject of seeking a negotiated agreement to curtain Iran's nuclear capacity. 
"I'll tell you what it does show you," Paul said of the ad. "Somebody is worried about me.  On my day, when I'm announcing, someone is spending a million dollars."
A spot produced by Foundation for a Secure & Prosperous America and released on Monday seeks to portray Paul as dangerously out of step with the Republican mainstream on foreign policy matters.
Paul, however, is not shying away from how he differs with the GOP. In fact, during his appearance on Hannity, the candidate took the combative route, firing off attacks on the establishment as well as the past two Republican presidential standard bearers, Senator John McCain and former Massachusetts Governor Mitt Romney. 
"I think so often we get people who are elected and they spend decade after decade up there, they lose touch with the people and then nothing changes," Paul said. "We elect Republicans who say, 'we want Republicans to balance the budget,' but then Republicans do the same things the Democrats do…The last couple of Republicans we've put forward, I couldn't tell you what we were for."
What Paul does know is that he disagrees with the foreign policy decisions of neo-conservative wing of his party. 
"The neo-conservatives sort of believe—these are the same people who wanted to give arms to Kaddafi and then the next year is wanting to topple Kaddafi.  They've been on both sides of every war.  The only thing consistent about their message is we should always be at war," Paul said. 
By expressing his belief that nuclear negotiations with Iran should be allowed to run their course, Paul has run afoul of many in his party, including those who are likely to run against him for the GOP presidential nomination. 
"The naivety of the neo-cons is they don't want to negotiate with anybody. They just want war. The difference is I want negotiations from a position of strength. I'm a Reagan Republican. He believed in peace through strength, but he did talk to the Russians. It would have been a mistake. And you know what Reagan did? Many of these neo-cons that are still around today criticized Reagan for talking to the Russians."
Before it's here, it's on the Bloomberg Terminal.
LEARN MORE