Chris Christie Tells Kindergarten Teacher He Won't Tone it Down
The New Jersey governor said he would rather "go home" than hold his tongue on the presidential campaign trail.
by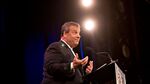 Chris Christie would "rather go home'' than hold his tongue just to appeal to more Americans as he considers a run for president, he told a town hall audience in Old Bridge, New Jersey.
"There are some people who just believe that if you're a public figure, that they're allowed to be rude—that they can say anything to you and because you're a public figure, you have to respond politely because that's the rule,'' said Christie, the 52-year-old Republican governor of New Jersey. "I don't see it that way.''
His answer was in response to Cheryl Meyer, a 45-year-old kindergarten teacher from Woodbridge, who said she has a tough time explaining to her students and two sons how New Jersey's highest elected official can get away with calling people "idiot'' or ordering others to  "shut up.''
"I could say, 'Jersey—we're just Jersey,''' said Meyer, referring to state residents' tendency toward scrappiness. "That's not going to work in the United States.''
Her advice for the governor, she said, was "to tone it down a little.''
Christie, who achieved YouTube infamy for his confrontation with a Jersey boardwalk heckler, showed no flashes of temper on Tuesday. He told Meyer that he sometimes regrets snapping at critics, though the alternative—speaking in what he called a "vanilla" manner—wasn't genuine.
"If it turns out, whether it's for the people of the state or for the people of the country—if I ever chose to do that—that that wasn't their cup of tea? I'd rather go home," he said. 
Before it's here, it's on the Bloomberg Terminal.
LEARN MORE