Bill Clinton Says He Plans 'Backstage' Role at Start of Hillary Clinton's Campaign
He also says he's warned his wife that he may not be as effective on the stump as he once was.
by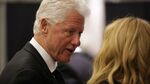 Former President Bill Clinton plans to leave the campaigning to his wife, at least through the early stages of her expected presidential run, though he does expect to engage in "backstage" strategizing as she launches her bid for the White House. 
Clinton and former Secretary of State Hillary Clinton agree that "my role should primarily be as a backstage adviser to her until we get much, much closer to the election," he said in an interview with Town & Country magazine conducted several weeks ago and published Tuesday.
But Clinton said he's warned his wife that he may not be as effective on the stump as he once was. "I've told Hillary that I don't think I'm good [at campaigning] anymore because I'm not mad at anybody," he said. "I'm a grandfather, and I got to see my granddaughter last night, and I can't be mad."
People close to Hillary Clinton have hinted at a smaller early public role for the former president as she tries to define herself for a new campaign, independent of her husband's complicated legacy. Her team has also stressed that if she chooses to run, she won't take a single vote for granted and that her campaign style will reflect that.
"I think it's important, and Hillary does too, that she go out there as if she's never run for anything before and establish her connection with the voters," Clinton said in the interview, which was conducted while he was in Haiti on behalf of the Clinton Foundation. He was photographed for Town & Country's cover standing in a field with a helicopter behind him and wearing his own Panerai watch, for which prices start in the mid-four figures.
The foundation has come under scrutiny for accepting contributions from foreign donors, especially from countries like Saudi Arabia and the United Arab Emirates, which have poor records on women's rights. But it is "the most transparent of all the presidential foundations and more transparent than a lot of other major foundations in the country," Clinton said. "It should be, both because I believe in it and because Hillary is in public life, and we'll get criticized, as some people are criticizing me, for taking money from a foreign government."
The foundation, Clinton added, will be his focus in 2015, as he tries to put it on steady footing in case his wife becomes president and he needs to shift his level of involvement. "First, I would have to assess what she wants me to do," he said. "And second, we might have to change the [foundation] rules again."
For now, though, he's holding off on planning for life with a Clinton back in the White House.
"It's hard for any party to hang on to the White House for 12 years, and it's a long road. A thousand things could happen," he said.
Before it's here, it's on the Bloomberg Terminal.
LEARN MORE