All Hail President Jon Stewart
We asked readers to pick the best president out of 64 extraordinary Americans who would never actually run. The king of fake news has prevailed.
by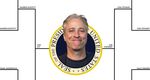 And then there was one. After six brutal rounds of voting, Jon Stewart has one more accomplishment to lord over his enemies at Fox News: victory in The Bloomberg Politics Tournament of Presidential Non-candidates.
We started off this humble contest with 64 generally implausible presidential candidates—titans of industry, accomplished media figures, athletes, pop stars, and a few toddlers—each with a inherent quality that might help them move on to the next round. And yet Kaci "Don't-Call-Me-The-Ebola-Nurse" Hickox's spirit was no match for Kimmy Schmidt's nearly diagnosable optimism, Oprah's cars paled in comparison to Khaleesi's dragons, and young North West wasn't quite as cute as her future frenemy Blue Ivy Carter. Each match was decided by readers, until we were down to our champion.
We don't support or even understand all of your choices, particularly the fact that Chris Rock was voted out of the first round (has no one seen Head of State?) but that's the way democracy works—the people vote, someone wins, and the loser's supporters spend the next four or eight years threatening to move to Canada and muttering, "Well, I didn't vote for him." And so we encourage all of Tina Fey's fan to continue the time honored tradition of licking their wounds—at least until next March.    

Before it's here, it's on the Bloomberg Terminal.
LEARN MORE