A Libertarian Walks Into a Bar: The Comic Stylings of Rand Paul
Political stumping is sometimes a lot like stand-up.
undefined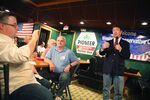 Kentucky Senator Rand Paul takes pride in his sense of humor. He's a fine off-the-cuff speaker—but he likes to let fly with traditional jokes, with old-style punchlines, against his traditional targets. Below are four: 
—An anti-Fed joke told at the 2013 Iowa GOP Lincoln Day Dinner: "We go up to the police [blocking the Federal Reserve], and we ask what's going on, and they say the Federal Reserve has been robbed. And we said, really?! They said, 'Yeah, but we caught the thieves. They got in front of the safe, they had the big safe open, but they were perplexed. They were flummoxed. They didn't know what to do with minus sixteen trillion dollars!'"
—An anti-Alison Lundergan Grimes poem read at the Fancy Farm church fundraiser in western Kentucky in August 2014:
There once was a woman from Kentucky 

Who thought in politics she'd be lucky 

So she flew to L.A. for a Hollywood bash. 

She came home in a flash with buckets of cash. 

To liberals, she whispers: coal makes you sick. 

In Kentucky, she claims coal makes us tick. 

To the liberals, she sells her soul 

— the same ones who hate Kentucky coal. 

One thing we know is true 

One thing we know is guaranteed 

She'd cast her first vote for Harry Reid. 

Grimes' real pledge is to Obama, her first vote is to Reid 

As for Kentucky, if that happens, it's too bad indeed. 
—An anti-government joke, told at the Values Voter Summit in 2012: "There was a little girl, and she wanted a hundred dollars, and she said she'd do good things with it. So she wrote a letter. She said, dear God, I'd like a hundred dollars. The postmaster got it, and he said, I don't know what to do with it. So he sent it to the president. And the president said, well, that's cute. And he said to his secretary, send the little girl $5; she'll appreciate that. So the little girl got it and was, like, five bucks. But her parents told her, always write a thank-you. And so she did. She said, dear God, thanks for the five bucks, but next time, don't send it through Washington; they stole 95 percent of it."
 —An anti-science monologue at CPAC, 2013: "The president says he can't find anything to cut except for White House tours. Well, what about the $3 million spent studying monkeys on meth. Does it really take $3 million to discover that monkeys, like humans, act crazy on meth? What about the $300,000 for a robotic squirrel? They wanted to study whether a squirrel that doesn't wag its tail will be bitten by a rattlesnake. Only problem, they couldn't find a real squirrel to volunteer not to wag its tail. Bottom line—a rattlesnake will bite the you-know-what out of a squirrel not wagging its tail. Mr. President, maybe we could have cut robotic squirrels before White House tours."
Before it's here, it's on the Bloomberg Terminal.
LEARN MORE