What's the Buzz? At the White House Easter Egg Roll, Bees Steal the Show
The president lost his audience for a spell.
by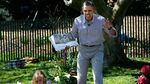 Bees caused a bit of a rumpus during President Barack Obama's annual reading of  Maurice Sendak's Where The Wild Things Are on Monday at the White House Easter Egg Roll. 
As the president was showing off one of the illustrations, children began screaming. The president placidly told the kids, "Bees are good," assuring them that they wouldn't get stung. Luckily for the president, the median age at the event was far too young to have ever seen the movie My Girl. Or The Wicker Man remake. 
According to reports, the screams subsided and the president was able to finish the story. 
The White House keeps bees (initially at the request of Sam Kass, former White House chef under Obama) and produces honey. 
Before it's here, it's on the Bloomberg Terminal.
LEARN MORE