Ron Paul Will Attend Rand's Presidential Campaign Launch
Randworld waits for the media to stop writing stories about the candidate's dad.
by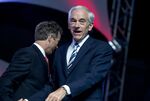 LOUISVILLE—Former Texas Representative Ron Paul will attend Tuesday's expected launch of Kentucky Senator Rand Paul's presidential bid. Reached on Monday, Ron Paul's Texas office confirmed that he was heading to Louisville for the event after his son's aides scored him a charter flight that would let him keep a long-scheduled commitment in Minneapolis.
For most political campaigns, "will the candidate's father show up" wouldn't be much of a question. In Rand Paul's successful 2010 campaign for Senate, it wasn't a question at all. In June 2009, Ron Paul's congressional campaign sent an e-mail to donors credited to the man himself, asking members of the "liberty movement" to back his son.
"During the Presidential election he traveled to ten states giving speeches for me," wrote Ron Paul. "He appeared on hundreds of radio programs for me. I am grateful for his contribution and very proud of the thoughtful, principled man Rand has become. So, it is with great enthusiasm that I endorse my son Rand's venture into electoral politics."
The younger Paul went along with this. He built on his father's donor network, and shrugged when his opponent attacked the influx of out-of-state money. He talked to the same outsider news networks that had obsessively covered his father.
"Your policies are basically identical to your father, correct?" InfoWars host Alex Jones asked Rand Paul in 2009.
"I'd say we'd be very, very similar," said the candidate. "We might present the message sometimes differently." 
That was just true, and the son's Senate campaign revealed a more nuanced politician than even the one who campaigned for Ron Paul. A year later, when Rand Paul won a landslide primary victory, Ron Paul shared the election night stage with him. "For teaching me to respect the Constitution," said the GOP nominee, "for teaching me individual responsibility as well as what individual freedom is about, for raising me and I hope doing a great job at learning what is right and what is wrong, I want to thank my parents, Carol and Ron Paul."
In 2011 and 2012—the only period when their electoral service overlapped—the Pauls frequently sat for joint interviews. Senator Paul, who'd long been his father's most effective surrogate, played that role in the diners and Pizza Ranches and TV studios of early primary states. Months later, when Ron Paul's delegates fought the Republican National Committee for the right to put his name into nomination at the convention, they won a small compromise: Rand Paul got a speaking slot, and Ron didn't. 
Yet starting in 2013, when Ron Paul had retired and Rand Paul's star was rising, the father and son went through sort of an amicable (and situational) schism. Ron Paul launched a new institute that employed some paleoconservatives whose records included defenses of Russian-allied autocrats against "the West" and alternate theories of the 9/11 attacks.
Rand Paul was absent from the Washington press conference that launched the Institute. By May 2014, the senator told reporter Alex Pappas that he'd "pretty much quit answering" questions about Ron Paul's opinions or associations. And there were plenty, just as there are articles today in the New York Times, USA Today, and Politico on the question of whether Rand Paul can overcome Ron Paul's own politicking. (Paul adviser Jesse Benton to the New York Times: "Ron's got his own life." Benton to Politico: "Ron is in his lane, and Rand is in his lane.)
Neither Paul has much of a poker face. When they're asked to respond to the other Paul's politics—almost always as a way to gauge Rand's response to something radical—both tend to reject the premise and question the reporter's acuity. "If we had decent reporters," Ron Paul snapped at the Washington Post's David Farenthold this year, "there would never be any problems." 
Team Rand's response: Wait it out. No one is going to stop Ron Paul from talking; no one is going to convince Rand Paul to answer questions about what his dad says. There can only be so many Ron/Rand "daddy issues" stories. "I don't read them at all now," snarked RANDPAC spokesman Doug Stafford in an e-mail. Once Rand Paul becomes a presidential candidate in his own right, surely, the narrative has to change.
One Paul ally who won't be attending Tuesday's rally: Kentucky Senator Mitch McConnell, the Senate majority whose political career began in Louisville. McConnell's rapprochement with Paul, who defeated an ally of the senator to win his 2010 primary, has gone a long way toward separating the son's achievements from the father. But McConnell, who has already endorsed Paul for president, is trying to avoid any further favoritism. Four members of his conference are likely going to be competing against each other for the nomination.
"He has no plans to do presidential campaigning," explained Don Stewart, a spokesman for McConnell.
Before it's here, it's on the Bloomberg Terminal.
LEARN MORE