North Carolina Turned Away by U.S. High Court on Voting Rules
Greg Stohr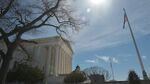 The U.S. Supreme Court turned away an appeal by North Carolina, declining for now to approve Republican-backed voting restrictions that may shape the 2016 election.
North Carolina asked the nation's highest court to uphold provisions that eliminate same-day voter registration and out-of-precinct voting. The Supreme Court previously let those provisions take effect for the 2014 balloting, and the state was seeking a ruling that would have a broader effect.
The high court will almost certainly have another chance to consider the restrictions before the 2016 election. A trial in the North Carolina case is set for July in a federal district court in Winston-Salem.
A federal appeals court ruled in October that the disputed changes disproportionately affected black voters and probably violated the 1965 Voting Rights Act.
The provisions are part of a broader law North Carolina enacted a month after the Supreme Court made it easier for states to tighten voting requirements. The 2013 high court decision struck down the part of the Voting Rights Act that had forced states with discriminatory pasts to get federal clearance before changing their election rules.
The Justice Department and civil rights groups sued North Carolina in 2013, arguing that the state law violated the Constitution and another section of the Voting Rights Act. A federal judge refused to block the law before the midterm elections, and the groups appealed.
The case is North Carolina v. League of Women Voters, 14-780.
Before it's here, it's on the Bloomberg Terminal.
LEARN MORE