Florida Dems: Bush's 'Hispanic' ID a Felony, But They Won't File a Complaint
Jeb Bush tweeted that it was just a mistake, but the Florida Democratic Party argues that Bush broke the law by identifying as Hispanic on a 2009 voter ID form.
by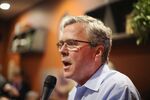 Today's free tip for presidential candidates: Fill out forms properly, so your political foes don't accuse you of breaking the law. 
The New York Times reported Monday that Jeb Bush, the former governor of Florida, checked Hispanic as his Race/Ethnicity on his 2009 voter registration form. While the Times piece notes that this may have been a "careless mistake," others have accused him of appropriating a marginalized culture. Democrats in Bush's home state are pointing out that, technically, submitting false information on a voter registration form is a crime.
The Florida Democratic Party tweeted out a photo of a registration form, photoshopped to include an image of Bush and a warning to call his lawyers.  Official Florida voter registration forms state that "It is a 3rd degree felony to submit false information. Maximum penalties are $5,000 and/or 5 years in prison." 
"The inattention to detail is not something you want in a presidential candidate," Max Steele, the press secretary for the Florida Democrats, told Bloomberg. Steele said the group doesn't intend to issue any kind of complaint against Bush.
 For his part, Bush and his son have laughed it off, tweeting that it was a mistake: 
Regardless, this is an awkward story for Republicans, and not just because Bush isn't Hispanic. Given that the GOP has made fighting voter fraud a key issue, Democrats and the media are quick to point out when Republicans are careless about filing out voter forms.
In 2011, the Associated Press reported that South Carolina Governor Nikki Haley, a Republican and Indian-American, had identified as white on a 2001 voter registration form. The story didn't reflect well on Haley, who had made fighting voter fraud a key issue. "[E]ven though she didn't exactly commit voter fraud, her self-race-mis-classification seems to undermine her credibilty as someone who wants to prevent people from lying on their way to the voting booth," Mother Jones argued at the time. 
Before it's here, it's on the Bloomberg Terminal.
LEARN MORE