Dianne Feinstein Wishes Bibi Netanyahu 'Would Contain Himself'
Feinstein said the Israeli prime minister's "no deal is better than a bad deal" logic is not helpful.
by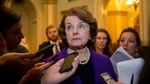 Senator Dianne Feinstein on Sunday said that if Israeli Prime Minister Benjamin Netanyahu doesn't have anything constructive to say about the Iran nuclear deal, he shouldn't say anything at all. 
Appearing on CNN's State of the Union shortly after Netanyahu did, the California Democrat said it's not "helpful for Israel to come out and oppose this one opportunity to change a major dynamic—which is downhill—in this part of the world." 
The deal lifts sanctions on Iran under the agreement that Iran will limit its nuclear program. Feinstein said Netanyahu's input "can backfire on him."
"I wish that he would contain himself, because he has put out no real alternative," Feinstein said. 
She added that the agreement, reached Thursday, is "a better agreement, candidly, that I ever thought it was going to be."
It's not the first time Feinstein has criticized Netanyahu on the Sunday shows lately. Before his much contested speech before congress, Feinstein, who is Jewish, said she takes issue with the idea that he somehow represents her views, and called him "arrogant" for seeming to assert that he does. 
Before it's here, it's on the Bloomberg Terminal.
LEARN MORE