Corker Says Support Growing to Give Congress Vote on Iran Deal
David Lerman and Justin Sink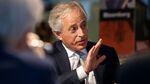 The Republican chairman of the Senate Foreign Relations Committee said Sunday he's within a few votes of being able to override a threatened presidential veto of his bill giving Congress a say in any nuclear deal with Iran.
Senator Bob Corker of Tennessee predicted "strong, bipartisan support" when his committee takes up the bill on April 14. The measure would give Congress 60 days to review a final agreement with Iran before any congressional sanctions could be suspended.
Republican leaders have given no indication of when the measure might be taken up on the Senate floor, assuming it passes committee. President Barack Obama has promised to veto the bill. Overriding a veto would need 67 votes in the 100-member Senate.
"We've got 64 or 65 that we're aware of today, if that were the case," Corker said on the "Fox News Sunday" program. "I talked to a number of Democrats over the weekend, and I think there are many more that are considering this."
Corker's comments came a day after Obama and his top aides began the job of selling the outline of an agreement with Iran aimed at ending a decade-long standoff over its nuclear program. The White House made a flurry of calls to lawmakers and gave assurances that sanctions on the Islamic Republic won't be lifted anytime soon.
Obama used his weekly address on Saturday to respond to objections from congressional critics of the deal. He said that any relief from economic sanctions will be phased in and that penalties in place over Iran's support for terrorism, human rights abuses and missile development will remain in force. Verification of Iran's compliance will be key, he said.
"This deal is not based on trust, it's based on unprecedented verification," Obama said. "Iran will never be permitted to develop a nuclear weapon."
Lawmakers Briefed
Obama spent time Friday calling lawmakers, including the four top leaders of the House and Senate, and U.S. allies in the region to discuss the negotiations and the terms of the preliminary agreement.
The administration is putting particular emphasis on reaching out to Corker, who will be a central player in the congressional reaction to the deal. Deputy Secretary of State Antony Blinken put in a call to the Tennessee Republican.
The White House was heartened when Corker issued a statement Thursday that didn't condemn the deal outright, as many of his Republican colleagues did, according to an administration official who briefed reporters on condition of anonymity to discuss strategy.
Congressional Review
Still, Corker on Sunday laid out what he called four "red flags" about the deal.
He questioned how and when sanctions would be lifted, how inspections can uncover any covert activities, the extent of nuclear development that would be permitted, and how inspectors can resolve questions about previous military dimensions to Iran's program.
"If the president feels like this is something that's good for the nation, surely he can sell this to the United States Senate and the House," Corker said on Fox.
The administration official said the White House is open to negotiating how Congress can play an oversight role, though Corker on Sunday dismissed the idea of casting a non-binding vote on the agreement.
Time Granted
Senator Lindsey Graham of South Carolina, a Republican on the Senate Armed Services Committee and a potential presidential candidate, said he would be willing to wait for a deal to be finalized before taking action on Corker's bill.
"I don't mind giving the administration the time between now and June to put this deal together," Graham said Sunday on CBS's "Face the Nation" program. "But I insist that Congress review the deal, that they can vote on it before it becomes final."
Senator Dianne Feinstein of California, the top Democrat on the Senate Intelligence Committee, said Sunday she's inclined to oppose Corker's bill in its current form.
"Today I would vote 'no' on that bill," Feinstein said on CNN's "State of the Union" program. "I want to be cautious and wait and see what actually comes out of that committee onto the floor before I really cast my vote."
Setting Out Choices
Obama said there are only two other choices besides the strategy pursed: bombing Iran's nuclear facilities or more sanctions. The former, he said, would set back Iran's development only a few years and start another war in the Middle East; new sanctions would lead to Iran ignoring the negotiating table and continuing its progress toward a bomb.
"I firmly believe that the diplomatic option -- a comprehensive, long-term deal like this -- is by far the best option," Obama said.
In addition to the president and Blinken, Treasury Secretary Jacob J. Lew, Chief of Staff Denis McDonough, National Security Adviser Susan Rice, United Nations Ambassador Samantha Power, and Deputy National Security Adviser Avril Haines, all placed numerous phone calls to members of the House and Senate from both parties, according to the White House.
Reaching Out
"The most important thing we can do in the immediate aftermath of the deal being reached is make sure they feel like they're getting the information they need," Eric Schultz, deputy White House press secretary, told reporters traveling with Obama back to Washington from an event in Utah Friday.
State Department spokeswoman Marie Harf said Friday that Iran wouldn't get any relief from economic sanctions until months after the June deadline for sealing a final agreement. How quickly that happens will depend on Iran meeting requirements to limit its nuclear program, she said.
As the administration worked to emphasize the advantages that the U.S. would gain under the tentative accord, Harf acknowledged there are questions that will only be answered after further negotiations.
International Inspectors
She said that inspectors from the International Atomic Energy Agency could visit all three of Iran's declared nuclear energy sites and request visits anywhere and at anytime. But she said negotiations are continuing over whether that would include military facilities, which Iran has refused to open in the past.
While she also said that the U.S could reimpose sanctions "very quickly" if Iran violated terms of a nuclear accord, she said details of a planned conflict-resolution procedure have yet to be shaped.
Obama also looked to shore up support internationally for the negotiations. In addition to discussions Thursday with the leaders of Germany, France, and the U.K. -- part of the group of nations that brokered the pact last week in Switzerland -- the president placed calls to U.S. allies in the Middle East.
Campaign Promises
For both Obama and Iran's President Hassan Rouhani, a nuclear deal represents a chance to validate campaign promises they made suggesting the promise of negotiations with long-entrenched enemies.
During his first presidential campaign, Obama drew ridicule when he said it would reach out to rogue international actors and U.S. adversaries. He's maintained that approach across his presidency, including the announcement last year his efforts to begin normalizing relations with Cuba.
Next week, the progress of that effort will come under renewed scrutiny when Obama heads to the Summit of the Americas in Panama. While there, its expected Obama could meet with Cuban leader Raul Castro, in a move certain to draw new criticism of his foreign policy approach.
Before it's here, it's on the Bloomberg Terminal.
LEARN MORE