Tom Cotton's Birthday Cake Habit, and Other Guilty Pleasures of Politicians
Here's what politicians end up saying when they're asked about their worst behaviors.
by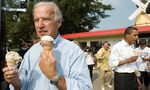 For some of us, birthday cakes are for special occasions to commemorate the anniversary of a friend or loved one's birth. For Senator Tom Cotton, an Arkansas Republican, it's a dietary staple. In a new interview with The New York Times Magazine's Mark Leibovich, Cotton revealed that his "guilty pleasure" is running, to make up for the fact that he eats birthday cake "most days, with ice cream." It's something he and his wife, Anna Peckham, bonded over. 
"Early on, when my wife and I were dating, we went to the grocery store, and I told her that sometimes I just buy birthday cakes, and I eat them. And she said: 'Really? I do, too,'" he said. When Leibovich asked if they bought cake when it's not someone's birthday, Cotton said they did. "She went to the grocery store yesterday and picked up a white birthday cake."
But Cotton isn't the only member of Congress with an insatiable sweet tooth. The guilty pleasures of politicians are boring by necessity—loving chocolate is more likely to get you votes than loving extra marital affairs or accepting gifts from shady billionaires—but sometimes a politician will say something funny, interesting, and maybe even revealing. Here are some noteworthy examples:
Nancy Pelosi: Ice Cream for Breakfast
For years House Minority Leader Nancy Pelosi has been known for eating dark chocolate ice cream for breakfast. "Chocolate ice cream is the staple of Pelosi's diet: She doesn't cook herself, so except for a salad for lunch and whatever an aide hands her for dinner, that's what she eats," Vanessa Grigoriadis wrote in a 2009 New York magazine profile. Beyond being an odd habit, it's an energy booster.
Last spring House Speaker John Boehner sent Pelosi a few pints of dark chocolate ice cream from an Ohio-based company for her birthday—unfortunately she'd given up chocolate for Lent that year. Here she is testing out ice cream flavors with Mark Halperin of Bloomberg Politics' With All Due Respect: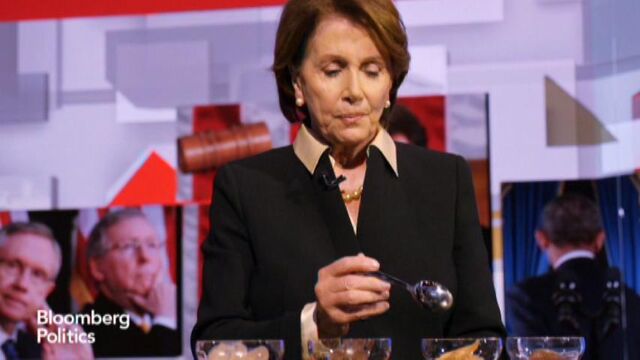 Hillary Clinton: Chocolate
When Clinton was asked about her guilty pleasures in May 2014 she had to think a bit. "I'm just trying to think of the G-rated ones," Clinton said, before settling on chocolate. "I hate to be so predictable. Chocolate of any sort. I have finally stopped keeping it in the house. I can never stop with one square." Her answer may have been predictable, but her delivery left people wondering what her other guilty pleasures might be. 
Barack Obama: SportsCenter, Chips, and Guac
In January 2008, during an interview with ABC News's "World News with Charles Gibson" Obama said his guilty pleasure was SportsCenter, given that he'd stopped sneaking the occasional cigarette. Last July, during the first lady's Kid State Dinner to promote healthy eating habits, Obama said the first family had some bad snack habits, too—Michelle Obama likes friends and he likes chips and guacamole. "My big thing is chips and guacamole," he said. "Basically, if there's a bowl of good chips and guacamole, I lose my mind." 
Joe Biden: Ice Cream
In the same 2008 World News interview Biden said his guilty pleasure was "ice cream." That's been to his benefit—last October the internet fell in love with a picture of Biden wearing aviator and eating an ice cream cone during a visit to Portland. 
Mitt Romney: PB&Js with Chocolate Milk
Romney said his guilty pleasure is a peanut butter sandwich with chocolate milk during a September 2012 interview with "Live! With Kelly and Michael." The real news of the interview, of course, was the fact that Ann Romney once walked in on (a covered) President George W. Bush getting a massage in the White House. In the January 2008 ABC News interview mentioned above, he was in more of a chocolate phase. "M&Ms, Hershey bars, Reese's Peanut Butter Cups, Nutella, Nutella and peanut butter on toast. I mean these are some of the great luxuries in life. Chocolate milk."
Before it's here, it's on the Bloomberg Terminal.
LEARN MORE