Iran's Twitter Brushback Means Tough Path Ahead for Deal
David Lerman and Nicole Gaouette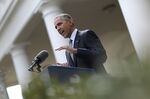 Within hours of an initial agreement to curb its nuclear program, Iran's Foreign Minister Javad Zarif posted a tweet disputing a U.S. "fact sheet" on the accord.
"The solutions are good for all, as they stand," Zarif tweeted. "There is no need to spin using 'fact sheets' so early on."
The shift in tone from accord to acrimony was an early sign that the coming months may spell danger for the deal once details left vague now are filled in before the next deadline at the end of June.
"It's a very important achievement, but this is merely a framework," Thomas Pickering, a former U.S. undersecretary of state for political affairs, said in an interview. "The devil is in the detail to be negotiated over the next three months. Each side will attempt to do a little clawing back."
Any of the potential sticking points could be enough to scuttle a deal: the pace and conditions for relief from sanctions that have crippled Iran's economy, the disposal of much of Iran's uranium stockpile and the extent of inspections needed to resolve possible military dimensions of the Islamic Republic's nuclear program.
Uranium Enrichment
Zarif told reporters in Lausanne, Switzerland, on Thursday that the accord would preserve Iran's right to enrich uranium and maintain nuclear facilities.
"Uranium enrichment and all our nuclear technology is solely for the development of Iran and it will not be against any countries in the region or the world," Iran's President Hassan Rouhani said in a televised address on Friday. The nation has taken a step toward preserving its nuclear rights and the removal of sanctions with the deal and wants better ties with countries where relations are strained, he said.
For his part, U.S. Secretary of State John Kerry told them that the deal promises to effectively eliminate Iran's ability to produce nuclear weapons for at least a decade, partly by reducing its stockpile of enriched uranium and cutting the number of centrifuges by two-thirds.
The time Iran would need to produce enough fissile material to make one weapon would be extended from two to three months today to at least a year, for at least 10 years, according to the U.S. summary. Kerry said some inspections by the International Atomic Energy Agency would continue for 25 years.
Under the framework, Iran agreed not to stockpile materials it could use to build a nuclear weapon, limit its enrichment capacity and turn its underground Fordo enrichment facility into a research and technology center. Iran would have to redesign its heavy-water research reactor in Arak so it won't produce weapons-grade plutonium, another potential source of fuel.
'Snap Back' Disputed
The two sides talked past each other on sanctions relief for Iran.
Kerry predicted it would take Iran four months to a year to meet verification requirements and qualify for sanctions relief. The U.S. "fact sheet" said sanctions would be "suspended" and would "snap back" if Iran violated restrictions on its nuclear program.
In his tweets, Zarif pointed to language in a joint statement by Iran and the European Union saying that the EU will "terminate the implementation of" sanctions and the U.S. will "cease the application" of them when inspectors verify that Iran is living up to the agreement's requirements.
"It already appears that there may be some daylight between the White House interpretation of what was agreed today and that of the Iranians," Suzanne Maloney, an Iran scholar at the Brookings Institution in Washington, said in an e-mail. "The Persian language describing the deal on Iranian news websites differs in some key areas from what has been published by the White House."
'Good News'
Analysts said the talks, which were described as on the verge of collapse in recent days, produced much more than they expected.
"In almost all ways, this agreement seems like good news," said Greg Thielmann, a senior fellow at the Arms Control Association in Washington. "If it turns out to be what it promises to be, then this will clearly be a historic breakthrough agreement."
Critics such as Mark Dubowitz, executive director of the Foundation for the Defense of Democracies, who has advised U.S lawmakers writing sanctions legislation, said the deal is still too lenient on Iran.
Critics' Targets
"Iran has retained most of the essential elements of its nuclear military infrastructure," Dubowitz said. "All of Iran's facilities will stay open."
He said the talk that sanctions can "snap back" if Iran violates its commitments may be unrealistic once billions of dollars of trade are under way.
"Snapback can be legally reimposed, but from a market perspective and from a political perspective, they're very difficult to reimpose," he said.
The accord's uncertainties and complexities offer potential targets from critics in the U.S. and Iran.
U.S. Senator John McCain of Arizona, the Republican chairman of the Senate Armed Services Committee, said he's concerned about provisions allowing the hardened Fordo nuclear site to stay open and letting Iran conduct research and development on advanced centrifuge technologies.
Difficult Position
"These and other issues must be addressed for any agreement to be a good agreement," McCain said in a statement.
Selling the deal in Iran may be an equally tough task.
"We gave a fully saddled horse, and got a torn harness in return," Hossein Shariatmadari, editor of the hard-line conservative Kayhan newspaper told the Fars news agency.
Karim Sadjadpour, a senior associate at the Carnegie Endowment for International Peace in Washington, said the agreement puts Iran's Supreme Leader Ayatollah Ali Khamenei in a "very difficult position."
"It seems that he either has to crush the spirit of tens of millions of euphoric Iranians, or he has to crush his hard-line base who have long opposed" a deal, Sadjadpour said on a conference call with reporters. "It's going to be hard for him to thread the needle."
Before it's here, it's on the Bloomberg Terminal.
LEARN MORE