What Do You Wear When Breaking the Ultimate Glass Ceiling?
Hillary's platform is still a mystery—but after years of turmoil, her wardrobe strategy seems settled.
by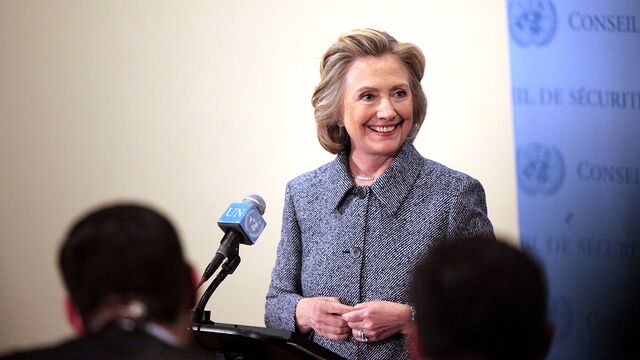 When Hillary Clinton joined Twitter, she typed out the facts of her famous résumé, then added, "dog owner, hair icon, pantsuit aficionado." Exactly one year later, she published her memoir, Hard Choices. In it, she joked that she might have called the book "The Scrunchie Chronicles: 112 Countries and It's Still All About My Hair" instead. Making a punch line of extensive 'do coverage is one way Clinton has found to push back against scrutiny, not to mention sexism. In a commencement speech she gave in 2001, Clinton, then a New York senator, told graduates from Yale, neatly seated in rows, "The most important thing I have to say to you today is that hair matters. Pay attention to your hair, because everyone else will." 
Among other challenges Hillary Clinton is facing is: How can a woman look presidential? When it comes to image, there is no template for the way the most powerful person in the country ought to dress if that person is female. Hillary Clinton is the closest we've come, and there's forever been a tizzy about her appearance, a constant undercurrent of controversy and second-guessing. She wears a V-neck, and that's showing too much skin. (In 2007, the Washington Post devoted a whole article to a peek of cleavage: "It was startling to see that small acknowledgment of sexuality and femininity peeking out of the conservative—aesthetically speaking—environment of Congress. After all, it wasn't until the early '90s that women were even allowed to wear pants on the Senate floor.") She covers up, and the late designer Oscar de la Renta calls her  "sort of very prudish." For years, Clinton has been inclined to favor the nondescript, even bland: That's seemed safest.
The problem is that safe may be more dangerous than dangerous. In 2011, Tim Gunn, the fashion consultant and "Project Runway" personality—"Make it work!"—lambasted Clinton's "cankles," and "Jersey Shore style." He griped to the talk-show host George Lopez, "Why must she dress that way? I think she's confused about her gender!" Her role, at the time, was Secretary of State.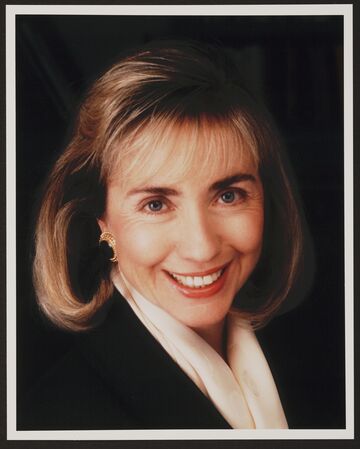 First Ladies have an easier time with their outfits, in a sense, because the role is tied up with femininity and marital domesticity. Clinton wore girlish violet lace to Bill's inaugural gala in 1993. But women in positions of power find themselves in a bind, needing to ape professional menswear to show they're serious (see: shoulder pads and power suits—all the way back to Hatshepsut, the first female pharaoh of Egypt, who ruled wearing a man's kilt and a fake beard), while still being attractive and feminine (think of Margaret Thatcher, who matched pussy-bow blouses with her big-shouldered, roomy suits).
Before life with Bill, Hillary Clinton worked as a lawyer, and in the legal profession, firms, judges, and attorneys alike continue to trip up in trying to advise women on how to dress. (As Alicia Florrick on "The Good Wife" knows.) A year and a half ago, the multinational British law firm Clifford Chance—one of the biggest law firms on earth—distributed a memo called "Presentation Tips for Women."  It instructed women to "Mean Business"—"don't giggle, don't squirm, don't tilt your head, don't wave your arms"—and recommended: "Think Lauren Bacall, not Marilyn Monroe." Plus, ahem, "No one heard Hillary the day she showed cleavage." Last May, a federal judge named Richard Kopf, a Democrat of Nebraska, wrote about female law clerks in his courthouses, in a blog post titled "On being a dirty old man and how young women lawyers dress." (Really.) In 2010, the Chicago Bar Association cosponsored a "What Not to Wear Fashion Show," which delivered the news that peep-toe shoes, ponytails, ruffles, and tramp stamps were no-nos. The year prior, a symposium of judges and lawyers of the Seventh Circuit Bar Association turned their attention to fashion. Judge Michael P. McCuskey, chief judge of the Federal District Court for the Central District of Illinois, said that he had seen law school participants in moot court wearing "skirts so short that there's no way they can sit down, and blouses so short there's no way the judges wouldn't look." Judge A. Benjamin Goldgar of the United States Bankruptcy Court for the Northern District of Illinois, warned, "you don't dress in court as if it's Saturday night and you're going out to a party."
With these sorts of remarks, it's no surprise that some female politicians aim for as little variation as possible. Angela Merkel, perhaps the most powerful woman on earth, sticks to more or less the same cut of jacket—"many colours but just one look."  The coats have been called ill-fitting, and she's been called frumpy. But it works: no-nonsense. (Sheryl Sandberg's gotten that adjective, too—just think, she could be wearing only hoodies. It's no surprise that Sandberg has tried to deflect the sexist language lobbed at powerful women with her "Ban Bossy." An organization called the Women's Media Center keeps a list of similar words that get used in gendered terms: 'feisty,' 'opinionated,' 'shrill,' 'aggressive.' Clinton knows each of them well.)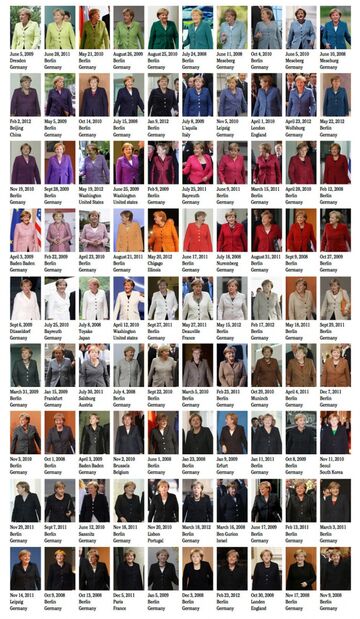 The fashion journalist Robb Young has written about strategies employed by women in power across cultures. He noted that the former prime minister of Ukraine, Yulia Tymoshenko, once had dark hair, and once was imprisoned for corruption. To improve her public image, Young wrote, "Tymoshenko hired an image consultant, who remade her into a modest village teacher, with her folky [blonde] braided hairstyle and her demure, feminine frocks in light colors." Liberian President Ellen Sirleaf Johnson, who used to work in finance and wear "Western attire," dons four-piece skirt-suits with "Afrocentric" headscarves and fabrics. Christine Lagarde is all about sleek silver hairdo, streamlined suits, and bright scarves. Feminine, mais pas trop.
On our shores, Condoleezza Rice, per Young, is an "action-figure diplomat" for the sleekly subversive cuts and dark colors of her clothes. And more recently, in January, Rep. Elise Stefanik, Republican of New York, was sworn in as the youngest woman ever elected to Congress, in a dress designed for the occasion by MM.LaFleur—one of a number of new fashion brands, like Project Gravitas, Of Mercer, and OnePointSix, that aim to make a business model by designing clothes to project thoughtful and purposeful professionalism.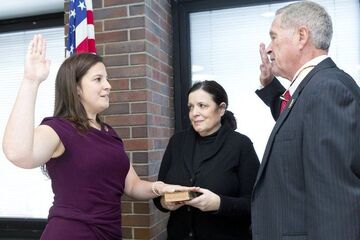 Little by little, consumers are finding a way to strike a balance. Not that lookism can be avoided, but this is one way to take control of the male gaze; no surprise that these fashion-company founders and designers are young professional women themselves, not senior male partners at law firms.
And actually, higher on the power totem, it seems to be more of a settled question than we often think. It may, it must be said, have something to do with Clinton's age. The public struggles to see women over 65 in sexual terms, which could actually help. And perhaps it's a lucky coincidence that Chanel-style cropped jackets are so in these days—a bit motorcycle jacket; a bit cropped, elegant Jackie O. Either way, there's a new kind of canniness, this round. Once she projected apathy toward apparel, fear of being attractive or being beautiful. But today, there are new textures, more muted colors, patterned scarves to meet Princess Kate. There is less that's matchy-matchy, less in Crayola or Easter-egg hues. (Leave those to baby Charlotte.) She's found a more comfortable way of pairing surprisingly chunky jewelry, often in metals or turquoise and blues, with her clothes. She seems more comfortable. It helps that this is a moment where a woman in charge can be secure in her femininity, and actually—unlike eight years ago— talk about feminism. She begins to project a greater ease. And it's not a coincidence, either, that the cover of the paperback version of Hard Choices shows a softer, smiling Clinton in silver earrings. 
Tim Gunn, previously critical, has noticed. He told Bloomberg Politics that, with regard to Clinton's fashion, he has done "a 180-degree about-face."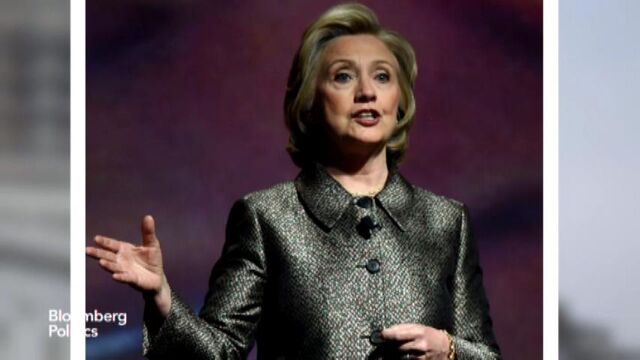 Speaking this week with Phil Mattingly, Gunn said that apparel is all about semiotics. "The clothes we wear, like it or not, sends a message about how the world perceives us. And these are elected officials, they're ambassadors for their constituents."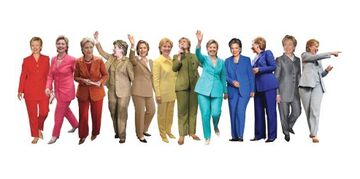 He went on, "Mrs. Clinton is looking exceptionally presidential, and what pleases me so much is that she does understand semiotics. She clearly gets it. When she was the First Lady, I saw this enormous arc of growth happen, in terms of her personal style and fashion. She entered the White House I thought rather frumpy, I felt that she exited as an angel of fashion.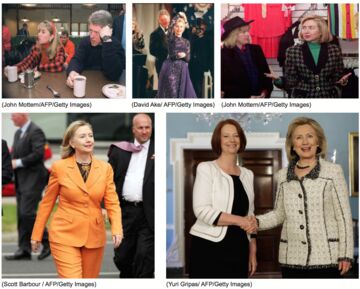 "When she became senator from New York, I thought okay, she's the senator from New York, this is a license to do anything. And she disappointed me, to be honest. Now I have to say, as Secretary of State, I—you couldn't pay me enough money to have that position. In fact, she may look at that presidency and think, I'll feel physically lighter for being the president and not being the secretary of state. So I forgave her a lot of her fashion foibles because she was awake 24/7 and constantly flying around and meeting and greeting, I don't think she … I'd be surprised if she had time to change her underwear."
He paused. And then he said, "She's looking presidential. And I'm with her."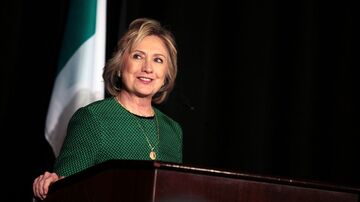 Does this have anything to do with her positions?
Gunn replied, "I'm very respectful of and supportive of most of her policies, but the fact that she is presenting herself in such an extraordinary way, in such a positive way, I throw in all the cards and say, I'm yours, Mrs. Clinton—or, Mrs. President."
Before it's here, it's on the Bloomberg Terminal.
LEARN MORE