Obama Hails Iran Framework as Historic, Calls It 'Best Option'
Justin Sink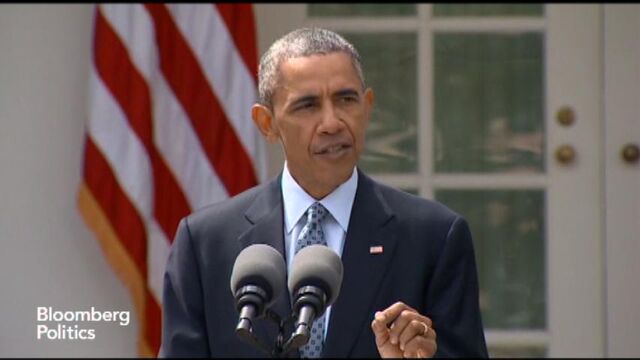 President Barack Obama said the framework deal that U.S. and its negotiating partners reached with Iran is a historic milestone that is based on unprecedented verification measures and not trust alone.
"After many months of tough principled diplomacy, we have achieved the framework for that deal, and it is a good deal," Obama said at the White House Thursday. "It is our best option by far."
Obama spoke a short time after Iran and representatives from the U.S., Russia, China, France, Germany and the U.K. announced in Switzerland that they reached an outline agreement that keeps them on a path to end a decade-long dispute over the Islamic Republic's nuclear development program.
It gives them three more months to settle technical details of an accord that could lead to the easing of sanctions in exchange for Iran's verifiable abandonment of efforts to build a nuclear weapon.
"Iran will never be permitted to develop a nuclear weapon," Obama said. If the Islamic Republic follows through on its promises "we will be able to resolve one of the greatest threats to our security."
He now faces a tough task convincing Republicans on Capitol Hill that Secretary of State John Kerry was able to secure enough in the negotiations.
He'll also need to stave off a pair of bills being considered in Congress: one that would give lawmakers the ability to review and ultimately veto the final agreement, and another that would automatically impose new sanctions if a final deal is not reached by the June deadline.
The White House has threatened to veto both pieces of legislation, saying they would jeopardize the talks. But critics of the administration's approach are looking to recruit a veto-proof majority.
Obama addressed many of the issues raised by his critics, saying that the U.S. will continue to pressure Iran over its support for terrorist groups and that his administration will consult with the Israeli government.
Before it's here, it's on the Bloomberg Terminal.
LEARN MORE