Menendez Vows to Fight Charges as He Exits Role on Senate Panel
David Voreacos, Terrence Dopp and Kathleen Hunter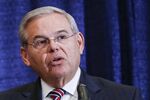 U.S. Senator Bob Menendez promised to fight federal corruption charges that he took almost $1 million in gifts and campaign donations to help a longtime friend, vowing to stay in office as he temporarily leaves a key committee post.
Prosecutors accused the New Jersey Democrat of accepting private jet flights and Caribbean vacations from Florida eye doctor Salomon Melgen in exchange for assistance in getting visas for his girlfriends, fighting a Medicare overbilling case, and trying to influence the Dominican government in a port contract dispute. Menendez said he's angry and ready to fight, calling the indictment false and politically motivated.
"This is not how my career is going to end," Menendez told reporters in Newark Wednesday, hours after the Justice Department announced charges against him and Melgen. "I'm confident at the end of the day I will be vindicated."
The indictment imperils the political career of one of the most influential Democratic and Latino voices in Congress on foreign policy. Menendez is the 12th U.S. senator in history to be charged while in office, and a lengthy prosecution could put pressure on him to resign.
While refusing to leave office, Menendez will step aside from his position as the top Democrat on the Foreign Relations Committee as he fights the charges. Senate Democratic Leader Harry Reid of Nevada said in a statement he appreciated Menendez's decision and that he "should not be judged until he has his day in court."
Menendez will appear in court on Thursday, according to his spokesman, Steve Sandberg.
Friendship Misconstrued
During a news conference Wednesday attended by cheering supporters, Menendez hinted at a potential defense strategy, saying that prosecutors confused acts of friendship with wrongdoing.
"Prosecutors at the Justice Department don't know the difference between friendship and corruption, and have chosen to twist my duties as a senator, and my friendship, into something improper," he said.
According to the indictment, Melgen gave Menendez "domestic and international flights on private jets, first-class domestic airfare, use of a Caribbean villa, access to an exclusive Dominican resort, a stay at a luxury hotel in Paris, expensive meals, golf outings, and tens of thousands of dollars in contributions to a legal defense fund."
In April 2010, Melgen gave Menendez enough American Express Membership Rewards points that he could stay in an executive suite at the five-star Park Hyatt Paris-Vendome, prosecutors said. The weekend at the suite was worth $4,934, and Menendez stayed there "with a woman with whom he had a personal relationship," according to the indictment.
Visa Applications
The senator helped advance the visa applications sought by Melgen for his girlfriends from Brazil, the Dominican Republic, and Ukraine, as well as the sister of the Dominican woman, according to prosecutors. Melgen is married.
The Brazilian woman, who got a visa in 2008, was an actress, model and lawyer who "met Menendez several times while with Melgen in New York, New Jersey, Florida, Spain, and the Dominican Republic," according to the indictment.
Menendez and Melgen, both 61, were charged with conspiracy to commit bribery and honest services wire fraud; bribery; honest services fraud; and violating the travel act. Menendez was also charged with making false statements.
To "assist Melgen's personal and pecuniary interests," Menendez took steps to support Melgen in three government disputes, meeting a U.S. cabinet secretary, contacting a U.S. ambassador, soliciting other senators, and meeting with the heads of agencies, according to a Justice Department statement.
Contract Dispute
Menendez and his staff also sought to intervene with the U.S. Department of Health and Human Services after it ruled in 2009 Melgen overbilled Medicare by $8.9 million for an eye medicine in 2007 and 2008, prosecutors charged.
Prosecutors said Melgen wanted Menendez to pressure the State Department to influence the Dominican Republic to honor a contract it had with Melgen's cargo-screening company, and to persuade the Department of Homeland Security not to donate equipment to the Caribbean country.
In 2012, Melgen gave $751,500 to entities supporting Menendez's re-election, including to New Jersey county Democratic organizations and Majority PAC, a super-political action committee that sought to elect Democrats to the Senate, according to the indictment.
Melgen and his wife also gave $40,000 to a Menendez legal defense fund, prosecutors said. In annual Senate ethics disclosure forms from 2007 to 2012, Menendez failed to disclose the Melgen gifts, prosecutors said.
Iran Policy
The U.S. probe, which began in 2013, cast a pall on the career of Menendez, a son of Cuban immigrants who rose through the political ranks in Hudson County, New Jersey. He served in the House for 13 years and entered the Senate in 2006, ascending to lead the Foreign Relations Committee. He emerged as a leading critic of President Barack Obama's efforts to forge a nuclear deal with Iran and restore relations with Cuba.
Foreign Relations Committee Chairman Bob Corker, a Tennessee Republican, said in a statement, "While I have no knowledge of the judicial matters at hand, I appreciate his bipartisan work on foreign relations issues and expect he will continue to play a constructive role."
Senator Ben Cardin of Maryland will take the top Democratic position on the Foreign Relations panel, according to a Senate Democratic leadership aide who spoke on condition of anonymity.
Stevens Case
Only five U.S. senators have been convicted in office. The most recent was Alaska Republican Ted Stevens, who was found guilty in 2008 of seven corruption-related felonies. The verdict was set aside the following year because of prosecutorial misconduct. Stevens was killed in a 2010 plane crash.
The National Republican Senatorial Committee, the Senate Republicans' campaign arm, said in a statement that Menendez's "ethics lapses have long been a distraction" for the Senate. "With today's indictment, the FBI and the Justice Department made it clear that Senator Menendez has betrayed the trust of New Jersey families," said NRSC spokeswoman Andrea Bozek.
If Menendez were to give up his Senate seat, New Jersey Governor Chris Christie, a Republican, would get to appoint his replacement and add to the party's 54-seat majority in the 100-member chamber. If he picks a successor, Christie may appeal to a national Republican audience as he eyes a run for the White House in 2016.
Before it's here, it's on the Bloomberg Terminal.
LEARN MORE