Carly Fiorina Reaffirms Support for Same-Sex Civil Unions
The former HP executive says that government benefits should be extended to same sex couples in civil unions.
by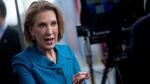 Carly Fiorina is entering the fray and setting herself apart.
Late Wednesday night, Fiorina sent out a press release addressing the debate over Indiana's Religious Freedom Restoration Act, calling the discussion "of critical importance for our country." In her statement, the former CEO of Hewlett-Packard and potential presidential candidate took the time to express her support for government benefits for same-sex couples.
"The debate about gay marriage is really a debate about how the government bestows benefits and whether they should be bestowed equally. I believe they should," Fiorina said in a statement. "I also believe that people of religious conviction know that marriage is a religious institution with a spiritual foundation because only a man and a woman can create life, which is a gift that comes from God. We must protect their rights as well."
When reached for comment, spokesperson Anna Epstein said that Fiorina has, for years, supported government benefits for same-sex couples bound by civil unions.
"Carly is against discrimination and for government benefits for same sex couples," Epstein said. "She's been supportive of civil unions and was supportive of them in her run in California in 2010."
In her statement Fiorina chastised "people on the left" as well as the CEOs from companies joining in a boycott of Indiana over its new law for not attempting to help "build tolerance."
"It has been tough for some in the media to understand my position because I refuse to join the game of name calling and vitriol. Politics shouldn't be a game, however. We must find a way to respect one another, to celebrate a culture that protects religious freedom while condemning discrimination," Fiornia said.
Unlike many of her potential GOP rivals, Fiorina is unequivocal in her support of government benefits to gay couples bound by civil unions, even while stopping short of supporting gay marriage.
Kentucky Senator Rand Paul, Florida Senator Marco Rubio, New Jersey Governor Chris Christie and former Florida Governor Jeb Bush have all signaled that they do not support gay marriage, but have taken a states rights position on whether it should be legalized at the local level. 
Before it's here, it's on the Bloomberg Terminal.
LEARN MORE