Why Is Obama Keeping Secret Four Seconds of a Nixon-Era Tape?
Tony Capaccio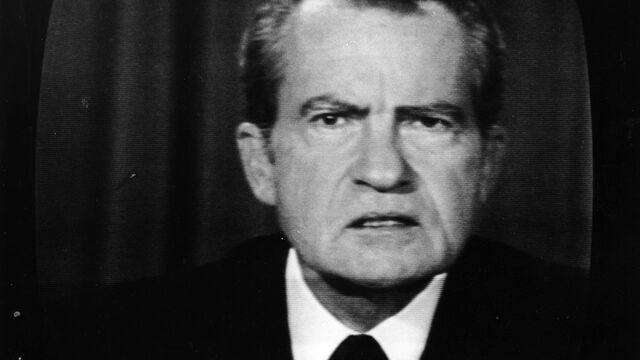 After promising to be the "most transparent" in history, the Obama administration is still refusing to release four seconds of a recording that Richard Nixon's chief of staff, H.R. Haldeman, made 42 years ago.
Ken Hughes, a University of Virginia researcher who's studied Nixon-era tapes, requested in February that the snippet of the Jan. 12, 1973, discussion on "Vietnam Negotiations" be declassified.
Revealing what was said, however, "would reveal information that would impair U.S. cryptologic systems or activities," National Security Agency spokeswoman Vanee Vines said in an e-mailed statement.
The NSA last reviewed the four-second snippet, part of Haldeman's four-year routine of maintaining a daily diary, in June 2013 and decided it should remain a state secret.
The audio segment also is exempted from release for reasons that may include revealing "the identity of a confidential human source, a human intelligence source" or a "relationship with an intelligence or security agency of a foreign government or international organization," a National Archives spokeswoman said in a separate e-mail.
Historians say the redacted segment probably refers to a threat by former President Lyndon Johnson to expose an illegal attempt by Nixon's presidential campaign to derail the 1968 Paris peace talks on ending the Vietnam War.
Hughes wrote last year in his book "Chasing Shadows" that the intermediary between the Nixon campaign and the South Vietnamese government was Republican loyalist Anna Chennault. Other historians also have documented the attempt using NSA and FBI files that were released under the Freedom of Information act.
Chennault was hardly a "human intelligence source" because she was "acting as an agent of Richard Nixon's presidential campaign, not as an agent of the U.S. government," Hughes said in his declassification request to the NSA.
The information the NSA still seeks to classify "stems from surveillance conducted in 1968 on a government that has not existed since 1975," Hughes wrote to the agency.
Before it's here, it's on the Bloomberg Terminal.
LEARN MORE