Ted Cruz Tries to Parlay Obstructionism Into Campaign Asset
The Texas senator has a knack for standing in the way.
by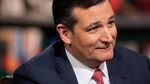 Most presidential candidates run on what they've accomplished. Senator Ted Cruz, on the other hand, plans to tout his efforts in keeping laws from being passed. 
The Texas lawmaker gained notoriety for helping shut down the government in 2013 in an attempt to defund Obamacare. Now, Cruz plans to argue that he also played a pivotal role in rallying Republicans against a Senate compromise on immigration policy and quashing a bipartisan bill to expand firearms background checks, according to his advisers.
All the Republican senators expected to run for president, including Cruz, Marco Rubio of Florida, and Rand Paul of Kentucky, will find it difficult to run on their records in a U.S. Senate that was one of the least productive in history. Cruz, however, plans to own the obstructionist label.
"Cruz's record is almost unmitigated in obstructing," making him unique among modern presidential candidates, said Larry Jacobs, a presidential historian at the University of Minnesota's Humphrey Institute. He is "lauding his ability to bring dysfunction to Congress. I can't recall any candidate bragging about that."
Polls show the American public is deeply dissatisfied with a Congress that's achieved little other than keeping its doors open. Yet Cruz's candidacy will rely on the Republicans' Tea Party voters, the small-government advocates who value attacks on President Barack Obama's agenda over legislative compromise.
His brand has appeal. A new CBS poll found 37 percent of Republicans say they'd consider voting for him, up from 23 percent in February and the biggest gain for any of the party's hopefuls.
The proportion of self-described Republican "conservatives" has soared over the past decade, says Jacobs. And Cruz is trying to tap into that base, especially in the early-voting states of Iowa, New Hampshire and South Carolina, by promoting his role as Obama's main antagonist in the GOP.
"Think of the dozen biggest fights we've seen in this country," he said in his first trip to New Hampshire last weekend after declaring his presidential run.
He cited "fighting" or "stopping" policies ranging from immigration and gun control to Obamacare and Common Core educational standards. He also mentioned standing with Israel and "defending religious liberty."
"For much of the field, they have not been leading on these issues," he said.
Cruz is trying to distinguish his Senate career not only from his potential competitors but from that of Obama, to whom parallels are being drawn: Both attended Harvard Law School and only served two years in the Senate before starting their presidential campaigns.
In an appearance over the weekend on CNN's State of the Union, Cruz said Obama had been a "backbencher."
By contrast, he has portrayed his own record in the Senate as assertive.
Among the issues Cruz cited in his March 23 announcement speech at Liberty University is his commitment to "a federal government that protects the right to keep and bear arms of all law-abiding Americans."
In March 2013, Cruz wrote a letter to then-Senate Majority Leader Harry Reid of Nevada, along with Republican Senators Paul and Mike Lee of Utah. They threatened to filibuster a compromise gun bill between Senators Pat Toomey, a Pennsylvania Republican, and Joe Manchin, a West Virginia Democrat.
"He was one of the three horsemen of the apocalypse" against the bill, said Mike Hammond, chief counsel at the Gun Owners of America, a group that lobbies against gun control.
Though the bill did make it to the floor for a vote, the letter "was the kickoff and it became the campaign to get the votes to defeat" the measure, said Hammond.
Cruz's campaign also highlights his efforts to fight a 2013 immigration compromise co-sponsored by Rubio, as well as legislation that he himself introduced to stop the expansion of a program shielding undocumented immigrant children from deportation.
It was Cruz who led the effort in 2013 to defund Obamacare, which included his recitation of the Dr. Seuss children's classic Green Eggs and Ham during an all-night filibuster speech on the Senate floor. The effort culminated in a 16-day partial government shutdown.
Michael Golden, author of "Unlock Congress," a book being published this month on congressional dysfunction, said Cruz's use of the filibuster is "one of the main reasons he has the profile to even garner attention in a Republican primary."
In February 2014, he tried to single-handedly block an increase in the debt ceiling, forcing a handful of his party members to switch their votes to stop him.
"Cruz is running against the Republican Party as much as the Democratic Party, and that's one of the striking things about his campaign," said Jacobs.
For most presidential candidates, Cruz's legislative record would be a liability.
In the last session of Congress, he introduced two bills that became law: one designating a courthouse in Sherman, Texas, and one denying admission to the U.S. to any United Nations representative found to have engaged in espionage or terrorism.
His campaign also cites an amendment to expand Purple Heart eligibility, a reward for information leading to the capture of Hamas terrorists who murdered an American-Israeli teen, and a resolution condemning the use of human shields.
Cruz defended his record in his CNN appearance. "In the Harry Reid Senate we passed next to nothing," he said. "The two pieces of legislation that passed the Senate are more than all but a handful of Republicans."
Indeed, that record makes him the most accomplished Senate freshman, according to Govtrack.us. Four other freshmen had one bill to their names while the rest had none. Yet those aren't the things on which Republican primary voters are assessing Cruz.
"If our only metric was judging a lawmaker by his legislative record we'd say Cruz isn't all that impressive," said Sarah Binder, a senior fellow at the Brookings Institution who wrote a book on congressional gridlock.
"Cruz hasn't come to the Senate to compromise," said Binder. "He's come to the Senate to make a point."
Before it's here, it's on the Bloomberg Terminal.
LEARN MORE