Take Heart, Robert Menendez: These 6 Senators Were Indicted But Later Acquitted
Several U.S. senators have been indicted over the years.
by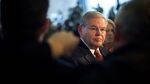 Senators, just like the rest of us, are innocent until proven guilty. 
On Wednesday, New Jersey Senator Robert Menendez received word that he had been indicted by federal prosecutors on corruption charges. The Justice Department alleges that Menendez accepted gifts and travel from Salomon Melgen, who has been one of the senator's major political donors, in violation of the law. Menendez has vehemently proclaimed his innocence. 
While being indicted can't be a welcome development in a politician's career, it need not signal the end of it. Here's a look back at those senators who have been indicted and eventually acquitted of the charges. 
Kay Bailey Hutchison 
In 1994, Texas' newly elected senator was indicted on charges that she had misused her former office as state treasurer in her run for office in Washington, but just minutes into her trial, the case was dismissed. 
"They thought the lady would crack," Hutchison said at a press conference. "Well, the lady wouldn't crack. The lady stood up and fought. The lady showed she could take the worst that a corruption of the political system could give."
Edward J. Gurney
Indicted in 1974 on charges that included bribery, influence-peddling and lying to a grand jury, the Florida senator did not run for re-election, but was twice acquitted of the charges against him. Some of Gurney's aides were sent to prison, however, and the senator's attempts to resume his political career ended in 1978, when he was defeated in a campaign for House seat, the Associated Press reported. 
Burton K. Wheeler
In 1925, the federal government accused the Montana Democrat of corruption for setting up land deals for a client with the Department of the Interior. A jury found Wheeler not guilty of the charges on the very same day that the freshman senator's sixth child was born, the Chicago Daily Tribune reported. 
Truman Newberry
The Michigan Republican was initially found guilty of violating the Federal Corrupt Practices Act in 1921 after Newberry was found to have paid $3,750 to guarantee his election over Henry Ford, Time reported. Newberry took his case all the way to the Supreme Court, however, where it his conviction was overturned. As with Gurney, New berry's political career never quite recovered, however, and he resigned from office in 1922.
Charles Dietrich
In 1903 the Nebraska Republican and Postmaster Jacob Fisher were indicted in a bribery scheme that resulted in Fisher obtaining his government position. Two weeks later, however, Dietrich was acquitted. He did not run for re-election. 
John Smith
Not only was this Ohio politician the first senator to be indicted, he was also nearly the second to be thrown out for treason. Smith was charged with participating in Vice President Aaron Burr's alleged conspiracy to invade Mexico, but a Senate investigation into the charges, in which Smith was defended by Francis Scott Key, allowed him to hold on to his senate seat.  
On the other hand not every senator to be indicted has been so lucky: Minnesota's David F. Durenberger, New Jersey's Harrison A. Williams, Michigan's Truman Newberry, Kansas's Joseph R. Burton, Oregon's John H. Mitchell, were all found guilty of the charges for which they were indicted. 
As for Alaska's Ted Stevens, he is something of a special case. Indicted in 2008 for failing to report gifts, Stevens was found guilty that same year and ended up losing a re-election bid. A federal judge set aside that verdict a year later, however, but it came too late Stevens' senate career. He died in 2010. 
Before it's here, it's on the Bloomberg Terminal.
LEARN MORE