Menendez Gives Up Top Foreign Relations Spot After Indictment
Kathleen Hunter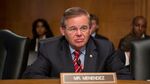 Senator Bob Menendez temporarily stepped down as the top Democrat on the Senate Foreign Relations Committee after being indicted, quieting a critic of President Barack Obama's policies on Iran and relations with Cuba.
Menendez of New Jersey was indicted Wednesday on federal corruption charges, accused of accepting private jet flights and hotel stays from a Florida eye doctor who sought his help in a dispute with federal agencies.
From his position on the Foreign Relations Committee, Menendez has been the most vocal Democratic critic of Obama's foreign policies on Ukraine, Cuba and Iran.
Foreign Relations Chairman Bob Corker, a Tennessee Republican, said in a statement, "While I have no knowledge of the judicial matters at hand, I appreciate his bipartisan work on foreign relations issues and expect he will continue to play a constructive role."
Menendez is co-sponsor of legislation that would impose more sanctions on Iran, a bill that Obama vowed to veto if it were enacted while talks to curb that country's nuclear program continue.
Menendez has pledged not to "give this or any other president an open-ended blank check," pushing to add restrictions to Obama's proposal to authorize military force against Islamic State in Iraq and Syria. The son of Cuban immigrants, Menendez also has criticized Obama's move to normalize relations with that country's Castro regime.
Senator Ben Cardin of Maryland will take the top Democratic position on the Foreign Relations panel, according to a Senate Democratic leadership aide who spoke on condition of anonymity.
Democratic Support
Menendez is retaining strong support from Democratic colleagues, including Minority Leader Harry Reid of Nevada. Reid told reporters March 10 that Menendez has been "an outstanding senator" and has done "a stalwart job" as the top Democrat on Foreign Relations.
Menendez's fellow New Jersey Democrat, Senator Cory Booker, said in a statement Wednesday, "I won't waver in my commitment to stand alongside my senior senator to serve our great state."
New Jersey Democratic Party Chairman John Currie said, "The senator has told me personally that none of his actions were inappropriate or unlawful, and I truly believe him." He added, "I will continue to proudly stand with my friend Bob Menendez."
Frank Sharry, executive director of America's Voice, a pro-immigrant policy group, in a statement called Menendez "a tireless fighter for immigrants and immigration reform."
Immigration Measure
Menendez co-authored a bill the Senate passed in 2013 that would create a path to citizenship for millions of undocumented immigrants. The measure died in the House.
"My fervent hope is that Senator Menendez emerges from the current troubles stronger than ever," Sharry said. "He is not only the senior senator for New Jersey; he's also the senior senator for Latinos in America."
Republicans have sought to make Menendez's campaign contributions to Reid and other Democrats a campaign liability. For Reid, that strategy lost its punch when he announced last week that he won't seek re-election next year.
Reid "doesn't have to worry about his own re-election anymore, so he has that flexibility when talking about this," said John Pitney, a political scientist at Claremont McKenna College in California.
'Tempting Target'
Pitney said Menendez is a "tempting target" for Republicans because the indictment "feeds into the culture of corruption theme that the party inevitably uses against the president's party."
The National Republican Senatorial Committee, Senate Republicans' campaign organization, said in a statement that Menendez's "ethics lapses have long been a distraction" for the Senate.
"His actions reinforce all that the American people believe is wrong with Washington Democrats and closes the book on a Senate Democrat majority that put their personal interests ahead of the American people," said NRSC spokeswoman Andrea Bozek.
The NRSC called on Democratic Senator Michael Bennet of Colorado, who is seeking re-election in 2016, to return a $10,000 donation he received from Menendez.
Before it's here, it's on the Bloomberg Terminal.
LEARN MORE