Hillary Clinton Calls for Veto of Arkansas Religious-Freedom Bill
She weighs in just before the state's Republican governor said he would not sign the measure in its current form.
by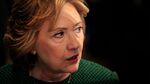 Former Secretary of State Hillary Clinton called  on Arkansas Governor Asa Hutchinson on Wednesday to veto a religious-freedom bill much like the one in Indiana that has stirred a backlash by gay-rights supporters.
Clinton, who had previously voiced her opposition to the Indiana law, weighed in just before Hutchinson started a press conference in Little Rock in which he said that he would not sign the bill that passed the state general assembly on Tuesday.
"Like IN law, AR bill goes beyond protecting religion, would permit unfair discrimination against #LGBT Americans," Clinton said on Twitter. "I urge Governor to veto."
Hutchinson had said that he would sign the bill if it "reaches my desk in similar form as to what has been passed in 20 other states" but said Wednesday that he hoped to see it change before he would sign it.
As she prepares to run for president, Clinton has increasingly turned to Twitter to weigh in on hot political issues of the moment, generally criticizing Republicans' actions. Last week, she wrote she was "sad this new Indiana law can happen in America today."
Clinton, of course, has personal ties to Arkansas, where Bill Clinton was governor for more than a decade.
Hutchinson, who took office earlier this year but has been in a fixture in Arkansas politics for decades, was a longtime thorn in the Clintons' side. He prosecuted Bill Clinton's brother on drug charges in the 1980s and was one of the 13 managers of the Senate's 1999 impeachment trial.
Before it's here, it's on the Bloomberg Terminal.
LEARN MORE