To Win the White House, Republicans May Need to Double Support Among Minority Voters
A demographic math lesson from a top Republican presidential strategist.
by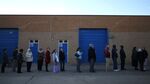 Here's some daunting presidential arithmetic from Whit Ayres, one of the Republican Party's top strategists in Washington: 
Republicans won 60 percent of the white vote in the 2014 midterms and cruised to victory in House and Senate elections.
The party's 2012 presidential nominee, Mitt Romney, won almost the same percentage of that bloc (59 percent), but lost the popular vote by 3.48 million votes. 
"Republicans have a major challenge in presidential elections," Ayres said Tuesday in Washington during a breakfast sponsored by the Christian Science Monitor. "There's something fundamentally different about presidential electorates that my party needs to resolve in order to elect a president in 2016."
That challenge comes down to demographics, Ayres said. And while that narrative isn't new, the strategist put a finer point on it with some numbers:
The percentage of white voters in presidential elections has declined between 2 percent and 4 percent in every race since 1996.
If the trend holds in 2016, the Republican nominee will need to win 31 percent of the non-white vote, or nearly double the 17 percent that Romney captured.
If the GOP nominee wins just 17 percent among minority votes in 2016, he or she will need to capture 65 percent of the white vote, a level no Republican candidate has reached since Ronald Reagan in 1984.
To capture the White House in 2016, the Republican nominee needs to win about 45 percent of Hispanic voters. Romney won 27 percent.
"I don't think we want to impose on our nominee the requirement to equal the performance of a popular president, running during a recovery for reelection, as the minimum required to put together a popular majority," Ayres said.
Candidates shouldn't change their values to fit an electorate, he said, but trends show that "a political candidate who is perceived as anti-gay at the presidential level will never connect with voters under 30 years old."
Ayres breaks down the demographic trends for his party in a new book, 2016 and Beyond: How Republicans Can Elect a President in the New America. In the book, Ayres calls on Republicans to couch their message "in a spirit of grace and acceptance" and to "drive down the middle of the right-hand side of the road."
"The Republican values of individual liberty, free enterprise, limited government, strong families, strong national defense, greater opportunity for all, know no ethnic boundaries," Ayres said Tuesday. "In the hands of the right candidate, those values and that message will achieve what the Republicans need to elect another president."
Ayres counts among his current clients Florida Senator Marco Rubio, who is poised to announce his presidential campaign on April 13. Ayres called Rubio the "most transformational" of the potential presidential candidates and said he deserved to be in the top tier of contenders. "Marco Rubio is the Michael Jordan of American politics," said Ayres, who attended the University of North Carolina during the Jordan era there. "And anyone underestimates his ability at their peril."
Before it's here, it's on the Bloomberg Terminal.
LEARN MORE