This Incessant E-Mail From Obama Is Not a Scam
How a campaign to raise money for Organizing for Action got a little carried away.
by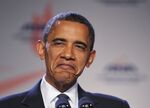 President Obama is using his bully pulpit to ask one question over and over lately: Are you ready to meet me?
A slew of e-mails from Organizing for Action, the nonprofit group that grew out of the Obama campaign, have been clogging inboxes in recent weeks, part of a relentless campaign to rake in as much money and as many e-mail addresses as possible by a Monday night deadline.
It's this simple: enter an e-mail address, win a chance to meet the president in Washington, DC, including free roundtrip airline tickets, hotel accommodations, and admission to the group's annual organizing summit on April 23. 

Eager doesn't begin to describe the appeals
— Three emails sent from Obama himself with these subject lines to supporters: "Tell your story" (3/25); "See you in D.C. next month?" (3/28); "I'd love to say thanks in person" (3/30)

— One from Michelle Obama:  "You and Barack should meet" (3/30)
— Six from Organizing for Action: "If you  want to meet the President" (3/25); "Re: Tell your story" (3/26); "Why the heck not" (3/27); "What you told us" (3/30); "Re: You and Barack should meet" (3/31) and "Fly to D.C. - meet the President??" (3/31)
— Two from Jim Messina, Obama's 2012 campaign manager and the OFA chairman: "Your chance to meet the President of the United States" (3/29) and "I'm proud of how we do business" (3/31)
— One from Sara El-Amine, the group's executive director: "A selfie with President Obama?" (3/30)
— One from Bruce Iverson, a past winner of this contest from Arizona: "Seriously, you could meet the president" (3/27)
— And this one from OFA national training director Ashley Pinedo: "Barack Obama is not a unicorn" (3/27)
These follow an e-mail from Toby Fallsgraff, OFA's digital director, with the subject line, "I want to tell you something," (3/26), in which he says that "a few months back, we ran an intensive supporter survey" and that "one message we heard from supporters is that you wish we wouldn't ask for money so often. We took that to heart. So far this year, you can count on one hand the number of times we've asked for a donation—and that includes this e-mail."
That e-mail went on to say that "what we can't do is stop asking for donations altogether" because "OFA is a grassroots-funded organization" and "it's a model that has fundamentally shifted the power structure in our system—away from the special interests and big-money lobbyists" but "it's also the harder way to raise funds. It makes fundraising deadlines critical to our budgeting, which means we need to send e-mails like this."
Is a chance to meet the president in year seven as hot a ticket as in 2009? President Obama seems optimistic: 

Before it's here, it's on the Bloomberg Terminal.
LEARN MORE