Ted Cruz Makes an E-Mail Fundraising Push
With the first-quarter deadline approaching, the first official presidential candidate of 2016 is asking for a quick infusion of cash.
by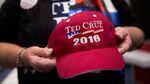 Ted Cruz thinks Hillary Clinton is his ticket to capping a strong week of fundraising.
The Texas senator, who announced his 2016 presidential candidacy last week, has sent out at least three e-mails in two days appealing for ``emergency'' contributions to fight ``constant attacks'' from the ``liberals'' who are ``out for blood.''
In his most recent dispatch, titled ``What Hillary's looking at,'' Cruz, a Republican, says the Democratic frontrunner ``will be the first to begin to analyze our financials to find weaknesses Hillary can exploit.''
More than likely, it'll be Cruz's fellow Republicans poring over his numbers. This week has been an early test of whether he can bring in the contributions he'll need to stay afloat throughout the course of a campaign.
Cruz is hoping to build on the $2 million he raised in the first three days after becoming the first official candidate for the White House. Tuesday marks the cut-off for first quarter fundraising for congressional and presidential candidates.
Cruz's advisers have said he needs at least $30 million to compete ahead of next November. If he can post strong numbers from the opening week of his bid, it will help him combat perceptions that he isn't a top-tier candidate with broad appeal.
``In less than 48 hours, my campaign faces its biggest challenge to date,'' Cruz wrote in Monday night's dispatch. Opponents and supporters ``will be looking at this report to determine the strength of our campaign.''
His early announcement was aimed in part at creating momentum in a field that will soon become crowded with candidates with broader appeal to the party's megadonors, including former Florida Governor Jeb Bush.  Cruz is expected to rely heavily on online contributions from small donors.
Cruz also will compete with Kentucky Senator Rand Paul, who is planning to announce his candidacy on April 7, for the affections of the limited-government, Tea Party-aligned groups that were the major funders of Cruz's 2012 Senate election. His top two donors, the Club for Growth and Senate Conservatives Fund, were also among the top three contributors to Paul's 2010 campaign.
It is against this backdrop that Cruz has sent out a flurry of fundraising appeals in the past few days. Each attack, Cruz said in a March 28 e-mail to supporters, is ``more vulgar than the last,'' up to and including assaults on his love of  country music.
"I've been called kook, weasel, and Joe McCarthy,'' Cruz said in a March 29 e-mail.
Before it's here, it's on the Bloomberg Terminal.
LEARN MORE