Report: Hillary Clinton Also Used iPad For E-Mail While Secretary of State
She used it mainly to read the news, her spokesman says.
by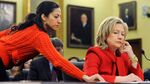 Hillary Clinton used an iPad in addition to a cellphone to communicate with her staff while she was serving as the nation's top diplomat, the Associated Press reported Tuesday, citing four e-mails provided by the State Department under a 2013 Freedom of Information Act request.
Clinton, a likely Democratic presidential candidate in 2016, used her personal e-mail address for all the messages. She has come under criticism for not using a government e-mail address as President Obama's secretary of state, a practice the New York Times revealed this month. She defended the set-up as legal and said she "opted for convenience to use my personal email account ... because I thought it would be easier to carry just one device for my work and for my personal emails instead of two."
Clinton used the iPad mainly to read news stories, spokesman Nick Merrill told the AP. Copies of the messages posted online by the news agency show several examples of her aides sending her stories about foreign affairs, including one exchange from 2011 where Clinton apparently replied to aide Huma Abedin about another matter by mistake.
Responding to Abedin's message, containing a story about drone-crash debris in Pakistan, Clinton wrote: "I like the idea of these. How high are they? What would the bench be made of? And I'd prefer two shelves or attractive boxes/baskets/ conmtainers on one. What do you think?" Abedin asked if Clinton meant to send that message to her, to which Clinton replies: "No-sorry! Also, pls let me know if you got a reply from my ipad. I'm not sure replies go thru."
Before it's here, it's on the Bloomberg Terminal.
LEARN MORE