Obama Commutes Sentences for 22 Convicted of Federal Drug Crimes
Justin Sink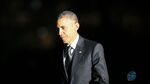 President Barack Obama commuted the sentences of 22 drug offenders serving time in federal prison, accelerating the administration's efforts to reduce penalties for many of those convicted of such crimes.
Obama's decision, announced on Tuesday, more than doubles the number of commutations he has issued, and is the latest sign that the White House is taking aim at a drug war the president has characterized as counterproductive.
Many of those freed by the commutations, including eight inmates who received life sentences, would have already served their time under today's drug laws and sentencing policies, according to White House counsel Neil Eggleston.
The treatment of non-violent drug crimes in the U.S. is "problematic" and is "breaking the bank" because of high incarceration costs, Obama said last week. He also said felony sentences were keeping offenders from finding jobs and participating in the recovery.
"We're all responsible for at least finding a solution to this," Obama said in an interview with David Simon, the creator of the television series "The Wire," that was taped for a summit on criminal justice reform.
The movement to change the nation's policy on dealing with drug offenders has drawn rare bipartisan support, with Democrats and Republicans working together on proposals to overhaul sentencing.
Revamping Sentencing
Eggleston, in a blog post on the White House website, said that the administration would continue work on revamping drug sentencing and that the president would continue using his clemency authority "in certain instances where justice, fairness, and proportionality demand it, and to give eligible and worthy individuals who have paid their debt to society a chance to contribute in meaningful ways."
Last year, Attorney General Eric Holder announced new rules to ensure that low-level, nonviolent drug offenders would no longer be charged with federal crimes that impose strict mandatory minimum sentences. In 2010, Obama signed legislation that reduced the disparity in sentences between powder cocaine and crack cocaine.
Holder has also asked the U.S. Sentencing Commission to allow imprisoned drug offenders to apply for reduced sentences, and began a program to expedite thousands of clemency requests from current inmates. That effort has placed a specific emphasis on aiding nonviolent drug offenders who have served more than a decade in jail with good conduct and who would be eligible for shorter sentences today.
Obama Letter
While Holder and Obama repeatedly have said they want to address issues with the criminal justice system, before Tuesday Obama had only commuted the sentences of 21 people and pardoned 64 individuals.
In a letter sent to those receiving the commutations, Obama wrote that he believed in their abilities "to prove the doubters wrong."
"Remember that you have the capacity to make good choices," Obama wrote. "By doing so, you will affect not only your own life, but those close to you. You will also influence, through your example, the possibility that others in your circumstances get their own second chance in the future."
Senator Rand Paul of Kentucky, a potential contender for the 2016 Republican presidential nomination, reintroduced legislation last month that would give federal judges more discretion in the way they hand down sentences. His co-sponsor on that bill was Senator Patrick Leahy, a Democrat from Vermont.
"These sentences disproportionately affect minorities and low-income communities, while doing little to keep us safe," Paul said in a statement at the time.
Before it's here, it's on the Bloomberg Terminal.
LEARN MORE