Jeb Bush's Biggest Weakness May be His Biggest Annoyance
The former Florida governor's family name is both a blessing and a curse.
by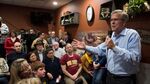 MYRTLE BEACH, S.C.–As she ate a buffet breakfast inside a Brazilian steakhouse about a mile from the waves crashing on South Carolina's coast, Eva Long was looking for a reason to confirm her anxieties about the featured speaker: Jeb Bush.
Instead, she found herself liking the way Bush distanced himself from the Common Core academic standards–Long calls them "communist core"–that have upset many in the Republican Party's conservative base. She also opposes amnesty for those in the country illegally, but said Bush's economic argument to change immigration policy made some sense.
Asked if there were any chance she'd back Bush in a primary, the 64-year-old retired federal worker shook her head.
"We don't need another Bush," said Long, who prefers Texas Senator Ted Cruz or Wisconsin Governor Scott Walker. "We need to win, and there's too many people saying that. I hear it everywhere."
As Bush stepped away from his fundraising blitz this month to speak directly with Republican primary voters in states with the first four presidential nominating contests, he showed how he plans to finesse his positions on the two issues that tend to alienate him from the party's conservative base. Interviews with audience members leaving those events showed that his tactics—framing immigration as an economic issue, and denouncing the federal government's ties to Common Core—are having at least some success.
But perhaps Bush's biggest weakness—the negative associations with his own last name—may also prove to be his greatest annoyance in the coming campaign. His ability to settle on an answer that satisfies voters' distress over sending another Bush to the White House may determine whether he can break way from a crowded Republican field. 
"The Bush name is his greatest strength and his greatest weakness," said Tom Davis, a Virginia Republican who served in the U.S. House and was honorary state chairman of Mitt Romney's 2012 campaign. "He's really got to thread the needle."
As the son and brother of former presidents, Bush's connections give him the advantages of a traditional front-runner. Donors with ties to his brother's and father's administrations are helping him raise as much as $100 million in the first three months of the year. He's also had a front-row seat to national and international policymaking, and a behind-the-scenes look at what it takes to survive the political process that produces presidents.
"When I was brought into the world in Midland, Texas, 62 years ago and my little eyes opened up and I got a chance to look, I was next to Barbara Bush," Bush told about 100 Republicans a pizza buffet in Cedar Rapids, Iowa on March 7. "I'm totally blessed. I mean, I won the lottery, if you think about it."
Yet even his mother quickly identified the inherent weak spot for a second son seeking the presidency. "We've had enough Bushes," she said when asked about it in 2013. She's since changed her mind, saying last month that the challenges facing the country are so big "that it doesn't matter what your last name is."

As Bush looks to ease concerns he has stopped saying, "I'm my own man," as he did during a foreign policy speech in Chicago last month. Still, Bush continues to pronounce his love for his siblings and parents, while putting greater emphasis on his personal story: Meeting his wife, Columba, as a teenager in Mexico, opening a bank office in Venezuela, and establishing himself—and his own family—in Miami. 
"Like a lot of people, I have some reservations about dynastic succession," former U.S. Senator Bill Armstrong, a Colorado Republican who remains involved in conservative politics, said in an interview. "But the edge will come off that in the course of a campaign. This isn't Raúl Castro taking over for his brother. Jeb will have to go out and fight for it, and he's out there doing that right now."
At a campaign-style event in Nevada in early March, a man tried to ask the former Florida governor how he would differentiate himself from other White House contenders. But the questioner trailed off as he spoke. And before he could finish, Bush jumped in and instead rattled off a series of reasons how he was different from the 41st and 43rd U.S. presidents.
The world has dramatically changed since 1988, he said. Every election is different, and he wants to earn the nomination on his own. His ideas for restoring the middle class will differentiate himself from the family.
"Do you have brothers and sisters? Are you exactly the same?" Bush shot back. 
"I meant the difference between you and the others in the Republican Party," the man answered.
"Oh, geez," Bush said. "I didn't even have to answer that question."
In New Hampshire, Bush used that response to the multiple questions he took about his brother and father. When a reporter told Bush that, yes, she was quite similar to her siblings, Bush flared. "Wow, you're the only family I've ever met that's like that," he said before collecting himself, thanking her for coming, and walking away.
"Bush fatigue is very real, but it's real to the people who have never had any exposure to him," Craig Robinson, a former political director for the Iowa Republican Party and the founder and editor of TheIowaRepublican.com, said in an interview. "As people talk to him directly and ask him questions they'll make their own judgement. He needs to focus his campaign on the issues, and not personality. And in the course of a presidential campaign, a debate over a person's last name isn't going to be all that interesting." 
For now, there are plenty of anxieties over another Bush. Nearly 20 percent of those likely to participate in the Iowa caucuses said they won't support a third Bush in the White House, according to a Bloomberg Politics/Des Moines Register Iowa Poll in January.
In focus groups convened this month by Bloomberg Politics and Purple Strategies, several Republicans  repeatedly pointed to his family's legacy as a problem.  "I know enough to know I don't need to keep voting for a Bush over and over again or a Clinton over and over again," said Matthew, a 35-year-old participant.
Bush's likely opponents are eager to point out the name problem as they make an appeal to the party's grassroots.
U.S. Senator Ted Cruz, who declared his candidacy last week, has argued for years that it's time to nominate someone from outside the Republican establishment. "Of course all of us remember President Dole and President McCain and President Romney," Cruz said in a speech to conservative activists last year.
With former First Lady Hillary Clinton as the likely Democratic nominee as at this point, other Republicans believe a "fresh face" would be their best chance to win a presidential race for the first time since 2004. "We need to offer a new, fresh approach," Wisconsin Governor Scott Walker, who is considering his own presidential campaign, told party leaders in California earlier this year.
While Bush insists that he's not going to change his positions to try to assuage Republican critics, he's attempting to couch them in conservative terms that can get heads nodding and hands clapping, if not creating conversions on the spot.

On immigration, Bush supports easing current laws and giving legal status to many of the country's 11 million undocumented immigrants. At the same time, he says border security must be accomplished first, and wants Congress to make that a priority in the ongoing budget negotiations in Washington. He argues the nation's laws should welcome more immigrants who can provide an economic benefit, but criticizes executive actions President Obama has taken to protect some undocumented immigrants from deportation, although hasn't said whether he'd repeal those changes (as House Republicans have voted to do) before a new immigration law is approved.
"I'm very impressed with how he's dealt with the skeptics," said Steve Duprey, a member of the Republican National Committee and former chairman of the New Hampshire Republican Committee. "Anyone who just tells you 'no amnesty' is not a serious candidate, because that doesn't work.  Jeb is showing that he's willing to spend time talking about these issues, and people see this is person with a completely different approach."
On Common Core, Bush points out that the standards were implemented after he was governor, while maintaining that he does support high educational standards. The problem with Common Core, Bush argues, is using federal money as incentives to get states to adopt the curricula, and if states want to replace Common Core, he says they should find something more rigorous.  
"We spend more per student than any country in the world, other than a few small countries, and not even half of our kids are college or career ready," Bush said March 17 in Greenville, S.C. "So who's foolin' who?"
Answers like these in Myrtle Beach made fans of Republicans like Keith Palmer, an 80-year-old retiree who said he still favors Walker.
"Bush was way down the list for me, but I was very impressed," Palmer said after the breakfast.
What's keeping him from moving Bush to the top? 
"I'm like Barbara," Palmer said, referring to Bush's mother. "Why do we have to have another Bush?"
Mark Halperin contributed to this story.
Before it's here, it's on the Bloomberg Terminal.
LEARN MORE