Indiana Grapples With 'Deep Mess' of Religious-Freedom Law
"Fix this now," the Indianapolis Star editorial board demands.
by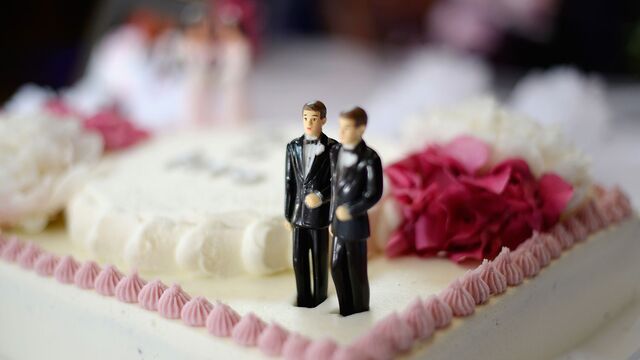 There is a simple way to make sure Indiana's new Religious Freedom Restoration Act protects religious liberty without making it easier for Hoosiers to discriminate against gay people: Write it into the law, or better yet, pass a new law extending civil rights protections to LGBT people.
That's what a full-page, front-page editorial in Tuesday's Indianapolis Star respectfully demands, under the imposing headline "FIX THIS NOW." Surely, under the intense spotlight that hosting the Final Four has brought to town, that's where this Hoosier havoc is headed. And if there's a Republican in the land who could ignore the kind of urgent, business-based plea put forward by the Star, I haven't met him or her.
"We are at a critical moment in Indiana's history," the editorial begins. "And much is at stake. Our image. Our reputation as a state that embraces people of diverse backgrounds and makes them feel welcome. And our efforts over many years to retool our economy, to attract talented workers and thriving businesses, and to improve the quality of life for millions of Hoosiers. All of this is at risk because of a new law, the Religious Freedom Restoration Act, that no matter its original intent already has done enormous harm to our state and potentially our economic future. The consequences will only get worse if our state leaders delay in fixing the deep mess created. Half steps will not be enough. Half steps will not undo the damage."
Perhaps there will now be pressure to repeal or rework similar laws in the other 19 states that have them, too—though some of those states, like Illinois, where Chicago Mayor Rahm Emanuel has invited offended RFRA refugees to flee, also have non-discrimination laws on the books to guard against what's happening in Indiana.
Even now, Governor Mike Pence seems genuinely surprised by the gale force of the blowback. Why weren't all those other states criticized in this same way? Well, for one thing, because so much has changed since many of those other state laws were passed. Yes, public opinion on gay marriage has shifted, but even more to the point, gay rights had nothing to do with the focus of the original law.
Back in 1993, when a nice Brooklyn liberal by the name of Chuck Schumer introduced the federal RFRA in the House of Representatives, the American Civil Liberties Union was fighting for more religious protections. And back then, nobody—literally, no member of Congress—disagreed that the First Amendment needed some bucking up after a ruling against two Native American peyote smokers in Oregon.
The RFRA Bill Clinton signed into law says that to limit religious freedom, as in the case of those two Oregon drug counselors—who had smoked peyote as part of their religious observance, had been fired after failing drug tests, then were denied unemployment benefits—the government has to show it has some compelling interest in doing so. It also has to limit religious exercise in the least restrictive way possible.
Because that law covered only infringements by the federal government, a number of states later passed their own versions.
But this Indiana law is different in a couple of important ways from other state RFRAs: It explicitly protects the religious rights of for-profit corporations, and it spells out that it applies even to disputes between two private parties, in situations in which the government plays no role.
I'm not among those who would argue that even in the current context, RFRA's only raison d'etre is spite. But it's also impossible to believe that Indiana passed this out of concern for Muslim women who want to wear hijabs in driver's license photos.
No, the situations it wanted to guard against are along the lines of the Elane Photography case out of New Mexico, where there is a RFRA that applies only in cases that involve government infringement on the exercise of religion. There's also an anti-discrimination law protecting LGBT people in that state, so in 2008, Elaine Huguenin was ordered by the New Mexico Human Rights Commission to pay $6,637.94 in attorneys' fees to a woman whose 2006 commitment ceremony she had declined to photograph on religious grounds. The New Mexico Supreme Court upheld the ruling, noting that Huguenin and her husband and co-owner of the studio must, as the "price of citizenship," agree to "compromise the very religious beliefs that inspire their lives."
Similar cases have included the Washington State florist who was sued by a friend, or former friend, anyway, after telling him she couldn't in good conscience create floral arrangements for his same-sex wedding, and the Denver baker who was taken to court after refusing to bake a wedding cake for a gay couple.
In all of these cases, my main question has been a religious one: What faith on this earth bars people from serving people whose behavior they consider sinful? Mine, I would argue, on the contrary requires that we do so, in keeping with Jesus' example. Clearly, the government can't decide which faith-based claims are legitimate and which aren't, because that's just the kind of excessive entanglement of the government in religious matters that all sides want to avoid. And since I'm neither a theologian nor a legal expert, I asked two scholars who are both.
The first, a conservative who didn't want to be quoted by name because he's already been so attacked on social media for his pro-RFRA views, surprised me by saying that he agrees there's no moral complicity involved in baking a darn cake. In other words, there's no reasonable expectation that one's refusal to bake that cake would lead the couple to a completely different life. Instead, he said, the objection is to being forced to artistically support a ceremony you see as sinful.  
The second, Cathleen Kaveny of Boston College, said the religious objection to baking a cake for a same-sex couple, just as in providing health insurance that covers birth control, still does boil down to what the Catholic Church calls remote material cooperation with evil.
Only, she argues that the perceived evil is so remote for the baker or the provider of health insurance that "we've got to sit down and work out what kinds of claims merit protection. You shouldn't have to perform abortions, or hand out birth control," if you consider those acts sinful, "but 'facilitating remotely' is part of the price we pay to live in a pluralistic society."
So just how remote is too remote? The federal RFRA says the interference has to pose a substantial burden to warrant relief, but what is "substantial," anyway? A compromise has to be worked out, Kaveny argues, "so it's not 'The Princess and the Pea.'"
Supporters of RFRAs say those laws are that compromise—a middle ground between unbridled religious freedom and the default response of secularists who see no incursion as too burdensome. RFRA fans also insist that the proof that the fears that these laws will invite a return to Jim Crow is that in all the years since 1993, there haven't been any successful suits claiming the right to discriminate.
"That may or may not be true,'' Kaveny counters, "but it is irrelevant. Federal RFRA was in the same state of quiescence until Hobby Lobby"—last summer's Supreme Court decision in Burwell v. Hobby Lobby Stores, in which religious exemptions to the contraception mandate in the Affordable Care Act were extended to a for-profit company. That decision "really energized religious liberty claims and placed the real rule of law into uncertainty. So I am sure the supporters expect the same thing" with RFRA.
What they most certainly did not expect, in any case, was an Easter Week backlash so strong it may well lead to stronger anti-discrimination laws. 
Before it's here, it's on the Bloomberg Terminal.
LEARN MORE