Hillary Clinton's Private E-Mail Is on Voters' Minds, Poll Says
In Pennsylvania, 52 percent said the issue is either very important or somewhat important in their vote for president in 2016.
by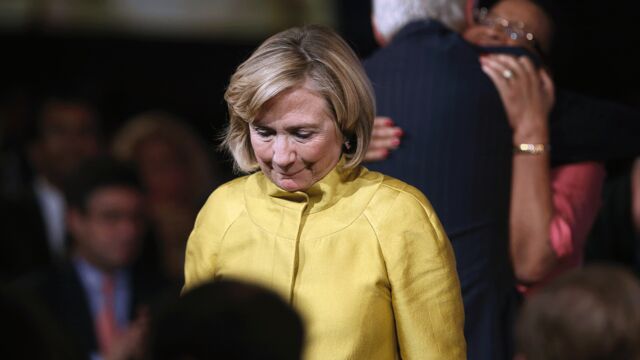 Hillary Clinton's personal e-mail use has not escaped the notice of swing-state voters, according to a Quinnipiac University poll published Tuesday. 
In Pennsylvania, 52 percent said the issue is either very important or somewhat important in their vote for president in 2016, when Clinton is expected to seek the Democratic nomination. Forty-one percent said they are less likely to vote for Clinton because of the e-mails, while 54 percent said the issue will not affect their vote. 
In Florida and Ohio, 51 percent said the issue is very or somewhat important; 56 percent of Floridians and 61 percent of Ohioans said it won't affect their vote. Thirty-eight percent in Florida said it would make them less likely to vote for Clinton, while 36 percent said so in Ohio. 
"The good news for Hillary Clinton is that the e-mail controversy has not done huge violence to her presidential chances," said Peter Brown, assistant director of the Quinnipiac Poll, in a statement. "But the matter is taking a toll on the former secretary of state's public image."
In Florida, the home state of likely Republican presidential candidates Jeb Bush and Marco Rubio, half of voters said they do not consider Clinton honesty and trustworthy; in Ohio, that figure was 46 percent, and in Pennsylvania, it was 49 percent. Clinton is seen as honest and trustworthy by 41 percent in Florida, 47 percent in Ohio, and 44 percent in Pennsylvania.
More than 60 percent in each state said Clinton has strong leadership qualities.
Pitted against potential Republican candidates in each of the states, Clinton trailed in two scenarios, both within the poll's plus-or-minus 3 percentage point margin of error. Against Bush in Florida, she took 42 percent to his 45 percent. Against Kentucky Senator Rand Paul in Pennsylvania, she took 44 percent to his 45 percent. 
In Pennsylvania, Clinton's advantage over Bush has declined to six points from 15 points in February.
Clinton's favorability ratings are down somewhat in two of the three states. In the February poll, she was at 53 percent in Florida and 55 percent in Pennsylvania. In this most recent poll, her favorability rating was 49 percent in Florida and 48 percent in Pennsylvania. She stayed at 51 percent in Ohio. 
Clinton's public perception tends to benefit when she is seen as above the fray of day-to-day politics, and suffer when she gets closer to the action. National Journal recently called it "one of the central conundrums of a Clinton candidacy: She is most-liked when she's furthest from being a candidate."
The poll reached 1,087 Florida voters, 1,077 Ohio voters, and 1,036 Pennsylvania voters by phone from March 17-28.
Before it's here, it's on the Bloomberg Terminal.
LEARN MORE