Did Republican 2016ers Go Too Far in Defending Mike Pence?
The walkback and the backlash.
by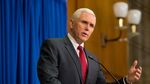 Tuesday morning, Indiana Governor Mike Pence attempted to suture the wounds of the last few days by asking his Republican legislature for a mulligan.
"After much reflection and in consultation with leadership of the General Assembly, I have come to the conclusion that it would be helpful to move legislation this week that makes it clear that this law does not give businesses a right to deny services to anyone," Pence said. "Let me say that again: I think it would be helpful, and I'd like to see on my desk before the end of this week, legislation that is added to the Religious Freedom Restoration Act in Indiana that makes it clear that this law does not give businesses the right to deny services to anyone."
Pence made that call after "round-the-clock" consultation with the law's critics, inside and outside of Indiana. He defended the premise of the law, but he had stopped arguing that Indiana's legislation was immaculate.
The problem? For a couple of days, leading Republicans had said just that. Former Florida Governor Jeb Bush had made the biggest splash when he told Hugh Hewitt that he fully backed Pence.
"I think Governor Pence has done the right thing," Bush said. "Florida has a law like this. Bill Clinton signed a law like this at the federal level. This is simply allowing people of faith space to be able to express their beliefs, to have, to be able to be people of conscience. I just think once the facts are established, people aren't going to see this as discriminatory at all... this law simply says the government has to have a level of burden to be able to establish that there's been some kind of discrimination. We're going to need this."
Meanwhile, as Chris Stirewalt reports, nine of the Republicans likely to join Bush in the 2016 primary got behind the Indiana governor.
"Governor Pence is holding the line to protect religious liberty in the Hoosier State," said Texas Senator Ted Cruz, the only declared candidate for president. "I'm proud to stand with Mike, and I urge Americans to do the same."
"Indiana's law is the same that was supported and signed by President Bill Clinton and most Democrats back in 1993," said former Arkansas Governor Mike Huckabee, repeating a common misconception about the law. "Senator Barack Obama also supported it at one time."
Wisconsin Governor Scott Walker's mild, spokesman-massaged comment in support of "religious freedom" inspired Democrats to recover the interview he gave to Bloomberg's Al Hunt, in which he suggested the rest of America could benefit from Wisconsin-style gay rights laws, or an Employee Non-Discrimination Act. "We've had anti-discriminatory laws that are very similar to that for 30 years," Walker said.
Of the most likely 2016 candidates, only New Jersey Governor Chris Christie and Kentucky Senator Rand Paul declined any comment on Indiana. (Paul's gone quiet this week in anticipation of an expected presidential campaign launch on April 7.)
The people asking for "clarification" on the law, like Indianapolis's Republican Mayor Greg Ballard, want something specific: Non-discrimination language in the state's statutes. Yet this issue is fraught enough that Pence might calm conservatives by asking for something less, and standing by the rest of the new law.
"RFRAs are not intended to nor have they ever been used to deny anyone non-religious goods or services," said Family Research Council President Tony Perkins in an afternoon statement. "We support such a clarification making clear RFRA does not impact non-religious goods or services."
Other conservatives, with fewer ties or reasons to make nice with Republican leaders, were less circumspect.
Before it's here, it's on the Bloomberg Terminal.
LEARN MORE