With or Without Iran Deal, Obama Faces Fight With Congress
Indira A.R. Lakshmanan, Justin Sink and Kathleen Miller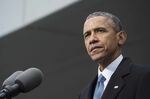 If the negotiations with Iran now in their final hours in Switzerland produce the framework of a deal, President Barack Obama will face a leviathan task of selling it to a skeptical Congress.
If they fail to produce anything by a self-imposed March 31 deadline, he'll confront an equally daunting challenge of holding off congressional moves to impose new sanctions on Iran while he tries to buy more time for negotiations.
In either case, Obama will have to make the case for what would be a crowning foreign policy achievement to a public that distrusts Iran's regime, yet doesn't want an unresolved nuclear crisis to spark a nuclear arms race, or even a war, in the Middle East.
"There is no trust in Iran," Senator Ben Cardin, a Maryland Democrat on the Foreign Relations Committee, said in an interview. "There is not a real belief that they want to come to a real deal."
Striking an agreement that prevents Iran from developing a nuclear weapon would be a capstone for Obama's foreign policy in his second term and vindicate his pursuit of diplomatic engagement over military action, one of the central arguments of his campaign for the presidency.
More Talks
Any provisional accord reached by Tuesday night between Iran and six world powers -- China, France, Germany, Russia, the U.K. and the U.S. -- would only clear the way for the most difficult negotiations. Three more months of talks would follow in an effort to reach a detailed, technical agreement by June 30. The two sides will wrangle over every word, line and comma, according to U.S. officials involved in the talks at the Swiss city of Lausanne.
Even if Tuesday's self-imposed deadline passes without a framework agreement, it's possible that negotiations might continue until June 30, when the so-called Joint Plan of Action restricting Iran's nuclear program is set to expire.
Lawmakers are poised to step in in either case. Congressional Democrats as well as Republicans are lining up against the administration and behind legislation that would allow them to review and possibly overturn any deal that Secretary of State John Kerry brings home. If there's no deal, another measure would hit Iran with new sanctions.
Tough Spot
"The administration is in a tough spot right now," said Suzanne Maloney, a former State Department staff member who is an Iran analyst at the Brookings Institution in Washington. The proposals being floated in Congress "would wreck any deal and undercut the multilateral diplomacy that has brought the process this far."
Some of the blame lies with the White House for not fully engaging with Congress or clearly defining an Iran policy, Maloney said.
Politics is at play, as well. For Republicans, "imploding what would be a major -- perhaps the major -- foreign policy achievement for the administration represents too tempting of a target," Maloney said.
White House spokesman Eric Schultz Monday said the administration has briefed and consulted with Congress hundreds of times as the negotiations with Iran have progressed.
"That includes one-on-one meetings, phone calls, briefing sessions, both classified and unclassified, with a range of officials, including the president," he told reporters traveling with Obama to a speech in Boston. "We will still work through how we envision Congress's oversight role here."
Veto Threat
Schultz reiterated that Obama would veto the main Iran legislation being debated, sponsored by Senators Bob Corker, a Tennessee Republican, and Robert Menendez, a New Jersey Democrat.
That bill would require the administration to wait 60 days before suspending any sanctions against Iran, during which time lawmakers would have the opportunity to approve, reject, or take no action on the deal.
Another measure, sponsored by Illinois Republican Senator Mark Kirk and Menendez, would increase sanctions on Iran if there isn't a deal curtailing its nuclear program by the end of June.
"If they come back without a deal, they're going to get hit with the Kirk-Menendez bill. If they come back with a deal, they're going to get hit with Corker's bill," said Omri Ceren, press and strategy director at the Israel Project, a Washington-based group that describes itself as educating the public about issues affecting Israel and the Middle East. Ceren said he expects the Corker bill would get at least the 67 votes needed to override a presidential veto.
'A Bad Deal'
"They are going to have to sell a bad deal," said Ceren, who opposes the deal and is observing the talks in Lausanne.
Strong opposition to the Iranian regime and concern over its nuclear program is perhaps the one foreign policy issue that has remained bipartisan on Capitol Hill in the last five years since Congress began to ratchet up sanctions in 2010.
Many Republicans, who have majorities in the House and Senate, have aligned themselves with newly re-elected Israeli Prime Minister Benjamin Netanyahu, a vocal critic of the negotiations who has been at odds with Obama.
Israel Visit
Senate Majority Leader Mitch McConnell, a Kentucky Republican, is one of several members of Congress visiting Israel during the congressional recess. He stood alongside Netanyahu on Sunday while the Israel leader called the potential deal under discussion in Lausanne a "dangerous agreement."
"The group who are here share your concerns about this potential agreement, and there are options that the United States has in the wake of an agreement and if there is no agreement," McConnell said.
House Foreign Affairs Chairman Ed Royce, a California Republican, said lawmakers are concerned that the agreement will let Iran keep the infrastructure to make a nuclear weapon and won't impost the intrusive inspection regime needed.
"That's why 365 members of Congress joined me and my ranking member to write the president last week and demanded that any agreement must last decades. With such bipartisan concerns, the administration is working to marginalize Congress on what is looking like a bad deal," Royce said in an e-mail. "So we're looking at different options to weigh in on the agreement."
Public Backing
The U.S. public wants Congress involved. While 49 percent of Americans approve of negotiating with Iran, compared 40 percent who don't, six out of 10 say Congress should have the final say on a deal, according to a Pew Research Center poll conducted March 25-29.
Cardin said that while he is suspicious of Iran and wants the U.S. to have a verifiable deal, he doesn't want Congress to compromise the president's ability to negotiate.
"I really take issue with those who are saying we can't have an effective agreement," he said.
Aaron David Miller, a former Middle East adviser to both Democratic and Republican administrations, said he's concerned that the pressure from Congress has made the March 31 deadline for a provisional agreement "more important than the deal."
"They need an accord that really makes sense, not some kind of kabuki theater agreement, but one where commitments are clear and lead normal human beings to the conclusion that this may not be the best deal, but it may be the best you could get under the circumstances -- and that the alternative is worse," Miller said.
Miller, now vice president at the Woodrow Wilson International Center for Scholars in Washington, said that if lawmakers act they will be defying not only the president, but also the British, French and German governments, key U.S. allies who are parties to the negotiations.
"It's one thing to vote 100-0 on an amendment against Iran," he said of a Senate vote last week for a non-binding measure to increase sanctions on Iran if the president can't certify that Iran is complying with a nuclear deal that was attached to a budget resolution. "It's another to override a presidential veto in the middle of a sensitive international negotiation," whose failure would be blamed on the U.S. if the talks fell apart.
Before it's here, it's on the Bloomberg Terminal.
LEARN MORE