Ted Cruz Keeps New Hampshire Republicans Laughing Through Their Obama Pain
He swings through the Granite State after becoming the first announced Republican candidate of the 2016 race.
by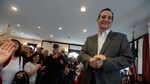 MERRIMACK, N.H.—After Senator Ted Cruz's red-hot campaign talk at a VFW hall here over the weekend, a woman approached the presidential hopeful and confided that she'd been too worried to close her eyes the previous night because of a report that President Barack Obama had "more or less given out Israel's nuclear secrets." After being compelled by a D.C. district court judge to respond to a reporter's request under the Freedom of Information Act, the Pentagon in early February declassified a 1987 report that comes close to confirming the universal assumption that Israel has the bomb.
The "hints are not hidden" in the report, said the Jewish Daily Forward.
But the woman, Chris Wittmann of Alton, N.H., wasn't hinting, either. No, she was downright beside herself—"I'm sleepless!" she told the Texas Republican—over Obama's "illegal" and "treasonous" act.
"Can nothing be done to stop him?" she asked the candidate, who throughout their exchange held her gaze and clasped one of her hands in both of his. "We're trying," he told her, "but it's unfortunate, having a commander-in-chief who does not defend our country."
"It's getting more and more dangerous every day" with Obama in office, "and that's what makes this election so important," Cruz said of next year's presidential contest.
If you guessed that the way to neutralize that mounting danger was to support Cruz for president, then you win a "Live Free or Die" T-shirt. 
"Things were bad in the '70s, too, but remember how quickly things turned around," said the senator, snapping his fingers for effect, "after Ronald Reagan was elected?"
Naturally, it's Cruz himself who is Ronald Reagan in this scenario—upbeat, smiling, and as he described himself in campaign stops in the Granite State over the weekend, at the end of his first week as the first announced Republican candidate of the 2016 race, "amazingly, powerfully, profoundly optimistic...because of each of you, the men and women in this room, who will not let freedom go."
Now, maybe you've seen all the reports that Cruz terrifies the children with his campaign-trail warnings that "the whole world is on fire." But if the grown-ups in his audiences see charm in all his alarm—and this weekend, they certainly did—maybe that's because some in those crowds, like Wittmann, are just a tad out in front of him. ("He's our worst enemy!" she said of the president after Cruz walked away. "He's a third-world Muslim communist and he ought to be removed!"
Another thing you might not get just from a world-on-fire soundbite is the extent to which Cruz keeps his crowds laughing through all the pain they say Obama has caused them. These are not, it must be said, very tough crowds. Among the lines—and sometimes, just sentence fragments—that drew big old guffaws were: 
1. "I found myself on MSNBC the other day…"

2. "Vice President Joe Biden…"

3. "Does anyone here read the New York Times?"

4. "Hillary announced her first hire, and it's the head of e-mail services—so Lois Lerner now has a job."

5. If 90,000 employees from an abolished Internal Revenue Service were sent to patrol the Mexican border, "imagine you swim the Rio Grande and the first thing you see is 90,000 IRS agents. You'd go home, too!"

6. "The world is on fire!"

At two of three campaign events, the first audience questions he took were about immigration—about, as one woman put it, "all the illegals taking our food stamps, taking our homes."
Boots on the ground, on the border, are the clear answer, said Cruz, who also talked about his father fleeing to the U.S. from Cuba as a teenager.
Whoever else gets into the race, Cruz will be running to their right—against Obamacare, which he's signing up for; against Wall Street and Goldman Sachs, where his wife Heidi has taken a leave from her private wealth-management job; against the press, though he does make himself available, instead of ducking in and out through back entrances as many candidates do; and against the leaders of his own party in Congress, where he claims that he's friendless but nonetheless able to get a lot accomplished.
The home-schooled children waiting to greet Cruz outside VFW Post 8641 in Merrimack, where cars in the parking lot were adorned with "Remember Benghazi" and "Government is the problem, not the solution" bumper stickers, certainly were not afraid of the candidate, but they hadn't heard much about him, either. One teenager volunteered that he hadn't made the hand-drawn "Ted Cruz for President" sign he was holding. 
Then Cruz spoke, to their parents and a couple hundred others in the hall, about the flat tax and the Second Amendment and the terrorists he claims Obama is too cowed to call out. He seemed to send them home both happy and angry. "I liked everything he said," said Carmelle Fair, who'd been standing near the front cheering, "because we don't have a president now, we have a dictator, with immigrants coming in getting everything free." The boy who'd wanted to make clear he didn't make the sign left smiling, too, having filled his pockets with lollipops on his way out the door.
Before it's here, it's on the Bloomberg Terminal.
LEARN MORE