Sea World Says it Has a 'Troll' Problem Thanks to #AskSeaWorld Campaign
The Florida-based company's public relations effort may have backfired.
by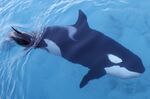 Bad publicity has a way of feeding on itself. 
Faced with declining ticket sales in the wake of the 2013 documentary Blackfish, SeaWorld launched a social media campaign that it said was designed to "cut through the misinformation" contained in the film and help resurrect its corporate image. Using its Twitter account, the company trotted out the hashtag #AskSeaWorld late last week, soliciting questions from users. What has ensued, however, is exactly the kind of engagement that SeaWorld was hoping to avoid. 
Thousands of negative tweets have been fired off by critics of the company, be they individuals or animal rights organizations. 
Faced with the barrage of still more negative publicity, SeaWorld blamed the firestorm on the advocacy group People for the Ethical Treatment of Animals. 
"It's no surprise that animal rights activists, led most notably by PETA, have inundated Twitter to try to deny people with real questions a chance to have their questions answered," SeaWorld said on its website. "A full 70 percent of the questions thus far have come from PETA and other animal rights groups or bots. It's unfortunate that these people would try to drown out thoughtful and honest answers by flooding social media with repeated questions and troll accounts."
The company went on to complain "trolls" flooding Twitter with critical questions.
PETA has, in fact, taken aim at the #AskSeaWorld campaign.
But PETA Senior Director Colleen O'Brien insists that there's a difference between those who question SeaWorld's practices and common Internet trolls. 
"I think SeaWorld's reaction is an invention designed to explain away a huge mistake on their part in underestimating the strength of public opinion against them," O'Brien said in a statement.
The public relations campaign comes as the company continues to see a decline in attendance at its parks, lawmakers in California have proposed bills on whether to outlaw orca shows at its San Diego park, and its stock price remains well off its 2013 highs. 
"The company believes the decline results from a combination of factors including negative media attention in California along with a challenging competitive environment, particularly in Florida," SeaWorld said in a statement in November following disappointing third quarter results in 2014. 
Meanwhile, Blackfish, has been posted to YouTube and viewed millions of times, continues to cause difficulties for the company.
Before it's here, it's on the Bloomberg Terminal.
LEARN MORE