Ted Kennedy Remembered as Obama Evokes More Bipartisan Era
Angela Greiling Keane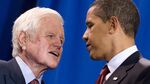 Even though Ted Kennedy died less than six years ago, the U.S. Senate today is a changed institution, President Barack Obama said as he remembered the Massachusetts senator and Democratic Party icon.
Obama, the keynote speaker at Monday's dedication of the Edward M. Kennedy Institute for the United States Senate, said Kennedy "waited more than a year to deliver his first speech on the Senate floor in 1964. That's no longer the custom." Obama, who didn't even serve a full term in the Senate before running for president, was quick to admit that, like others in the current generation of senators, he didn't wait to speak or take action either.
"The Senate was somewhere you pulled yourself up a little bit straighter, where you tried to act a little bit better," Obama said in Boston. "It fills you with a heightened sense of purpose. That's the magic of the Senate. That's the essence of what it can be."
Obama has tangled with Senate lawmakers from both parties this year. Democrats and Republicans are pressing him to guarantee congressional review if a nuclear deal is struck with Iran. Senate Republicans approved a budget that Obama declared untenable, and his pick for attorney general is waiting for confirmation after being nominated in November.
Obama recalled Kennedy working across the political aisle with Republicans when there was room for agreement, and he relishing in debate without getting personal.
Relishing Debate
The institute, in Boston's Columbia Point neighborhood, is named for Massachusetts Democrat who died in 2009. Obama and Kennedy overlapped as U.S. senators after Obama was elected to represent Illinois in 2004.
Other speakers included U.S. Senator Elizabeth Warren, a potential 2016 Democratic presidential candidate, Vice President Joe Biden and Patrick and Ted Kennedy Jr., two of the late senator's sons.
With a nod to today's Senate, Biden described Kennedy as someone who respected the chamber's traditions.
"As passionate as he felt, he always paid deference and respect to the institutions that were involved," Biden said, saying Kennedy respected both Congress and the presidency.
While neither Obama nor Biden directly referred to it in their remarks on Monday, a letter to Iran's leaders from lawmakers led by first-year Republican Senator Tom Cotton of Arkansas, marked the latest low in relations between Congress and the administration.
Iran Letter
The letter to the Iranian regime angered the administration because it circumvented the White House to communicate directly with Iranian leaders engaged in nuclear talks with the U.S. and five other world powers.
U.S. Secretary of State John Kerry, who served with Kennedy as Massachusetts's other U.S. senator, called the letter "stunning" and "flat wrong." Kerry missed the Kennedy institute's dedication because he's in Switzerland representing the U.S. in the Iran talks with a goal of tomorrow to reach an agreement.
Kennedy, who relished his moniker as the "liberal lion" of the Senate, represented Massachusetts from 1962 until his death in 2009. Biden, who was elected in 1972 to represent Delaware in the Senate at age 29, recalled Kennedy as a "big brother" figure who took him to the Senate gym and introduced him to lawmakers including the late Jacob Javits, a New York Republican, when they were less than fully clothed.
Biden Tribute
Biden, in a March 25 column in the Boston Globe, said Ted Kennedy was the reason he was elected and then sworn in after a car crash killed his wife and daughter.
"Teddy was the embodiment of what I believe the Senate best represents," Biden wrote. "It's remarkable that one of the most liberal senators of the last century had so many of his adversaries ultimately respect him. They knew he made them better -- and made the institution of the Senate better -- by the dignity and grace with which he conducted himself."
The institute has a full-scale replica of the Senate chamber and will host programs to educate people about the legislative body's role. It's on the University of Massachusetts Boston campus and near the presidential library of Ted Kennedy's brother, former President John F. Kennedy.
Fred Seigel, president of commercial real estate firm Beacon Capital Partners Inc., is chairman of the institutes's board.
While in the area, Obama also attended a closed-door Democratic National Committee fundraiser at Area Four, a restaurant in Cambridge. About 30 people, contributing as much as $33,400 will attend, according to the DNC.
Before it's here, it's on the Bloomberg Terminal.
LEARN MORE