George Pataki Says Bet on Him to Run For President
The Republican says he's closer to entering the field than ever.
by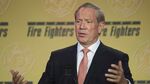 George Pataki, the former three-term New York governor, has a tip for gamblers: Place your chips on his running for president.
Pataki has traveled to New Hampshire six times since September and two weeks ago appeared at the Republican National Committee's donor retreat in Boca Raton, Florida. In an interview with Rita Cosby on WABC in New York, Pataki said he'll probably run, suggesting that the only hold ups are campaign-finance laws that would limit his fundraising once he formally declares.
"If you care about the country, it's very hard to sit on the sideline if you believe you have the ability to run a government like this country's well," Pataki said Sunday. "At this point, I am strongly inclined to do it."
Pataki has grappled with running in the last two presidential races. He said he's closer to entering the field than ever. 
"If I were a betting person, I would bet that I'd make the decision to go," Pataki said.
Pataki was the first presidential contender to create a super-PAC in 2015. He's the chairman of "We the People Not Washington," which says on its website it was formed to support Pataki's agenda to "dismantle the perpetual growth and overreach of the federal government and begin reducing the size of the federal government to a more appropriate level."
Before it's here, it's on the Bloomberg Terminal.
LEARN MORE