Did Marco Rubio and Mike Lee Have a Secret Plan to Help the Poor?
The senators' plan appeared to have a fully refundable tax credit worth $2,000.
by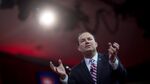 Over at TaxVox, Len Burman asks a provocative question: Do Republican senators Marco Rubio and Mike Lee have a secret plan to help poor families?
The answer: Not exactly.
Burman finds some ambiguity in the $2,000 personal tax credit that's part of the tax plan that Rubio and Lee unveiled earlier this month. The senators' description doesn't say whether the credit is fully refundable–an important detail. (A fully refundable credit can be claimed even if you don't owe any income or payroll taxes, and it's way more valuable to low-income households than a credit with caps and limits.) Burman said on Twitter on Monday that the senators' staffs said it was fully refundable and then backpedaled.
As Burman notes, a fully refundable credit is equivalent to a guaranteed basic income or a negative income tax. That's effectively a new entitlement program worth $2,000 per adult per year. One could imagine a version of this that would let prisoners and college students collect checks–and make tax-refund theft through identity fraud even more lucrative.
Turns out that's not quite what the senators have in mind.
A Rubio aide, requesting anonymity to respond, says the personal credit is refundable. However, the aide says, it's designed to make up for other features of their plan–the loss of the 10 percent income tax bracket, the standard deduction, and the personal exemption.
If and when Rubio and Lee turn their concept to legislation, they'll have rules to prevent new, non-working filers from sending in their forms and collecting the cash. 
Before it's here, it's on the Bloomberg Terminal.
LEARN MORE