Ted Cruz: 'I Was Not a Community Organizer'
The Republican senator says his experience outweighs that of the president's before Obama ran.
by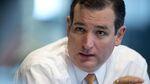 Ted Cruz is trying to put the comparisons with President Obama to rest once and for all.  
"Unlike Barack Obama, I was not a community organizer before I was elected to the Senate," Cruz said during a Sunday appearance on CNN's State of the Union. 
The freshman Senator turned Republican presidential candidate has come in for criticism from some in the party who see that résumé as too similar to that of Obama's. 
"Senators are going to have a hard time," syndicated columnist Charles Krauthammer said on Fox News last week. "We already tried a first-term senator," 
Cruz, who, like Obama, is the father of two daughters, graduated from Harvard Law School, and is known for his rhetorical flourishes, said that his experience as the solicitor-general of Texas sets him apart from the president. 
"I spent five and a half years as the solicitor-general of Texas, the chief lawyer for the state of Texas in front of the U.S. Supreme Court," Cruz said. "I supervised and led every appeal for the state of Texas in a 4,000 person agency with over 700 lawyers and over the course of five and a half years, over and over again, Texas led the nation defending conservative principles and winning."
Cruz also said that he's done more during his time in the Senate than Obama did during his, saying the president was a "back-bencher." 
"He had not been leading on issues of any significance," Cruz said. 
Before it's here, it's on the Bloomberg Terminal.
LEARN MORE