Silent Ted Cruz, Triumphant Elizabeth Warren, and the Other 2016 Moments of Vote-a-Rama
Only two Republican senators considering a 2016 presidential run voted against the Senate budget.
by and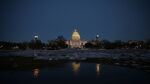 "Vote-a-rama" is over. The Senate has passed a budget resolution. The damage and glory to possible 2016 presidential candidates, and to their agendas, is coming into view. The 2016 fiscal year budget, and its companion flurry of ideological amendments, offered one of the last big legislative opportunities for prospective candidates to define themselves before launching campaigns and heading into primaries.
Only two 2016 Republicans, Texas Senator Ted Cruz and Kentucky Senator Rand Paul, voted against the final budget. Two Republican colleagues who are considering White House bids, South Carolina Senator Graham and Florida Senator Marco Rubio, voted for it. Vermont Senator Bernie Sanders, an independent who's still considering a run as a Democrat, joined every Democrat in the "no" camp. The real story was in the amendments.
Rand Paul
He set out to separate himself from every 2016 competitor by proposing to plus up defense spending and paying for it with cuts. Mission accomplished. Paul's amendment 940 got only four votes, from himself, Majority Leader Mitch McConnell, Budget chairman Mike Enzi, and Louisiana Senator (and 2015 gubernatorial candidate) David Vitter. In an interview with Politico's Manu Raju, Paul was blunt: "I think there are a great deal of problems for people who want to argue that they are fiscal conservatives and yet would simply borrow hundreds of billions of dollars for defense." On the floor, same story: "America does not project power from bankruptcy court."
Marco Rubio
On the floor and in the media, he happily led defense hawks with an amendment to blow through sequestration spending caps. "History has shown that every time we have unreasonably cut resources from our military in anticipation of a peace dividend, it has only cost us more to make up for the deficit we create in military readiness and capability, and the expected era of perpetual peace fails to materialize," Rubio wrote in an op-ed with Arkansas Senator Tom Cotton. "We think we are saving money, but in the long run, we end up paying more and creating more risk and uncertainty."
That amendment failed, albeit while winning 32 Republican votes. Most of the GOP's new senators opposed Rubio, with only Cotton, Colorado Senator Cory Gardner, and Nebraska Senator Ben Sasse backing the amendment. But Rubio did win over Cruz to his argument that the funds needed to be increased even if they weren't paid for.
Ted Cruz
The Texas senator did something on the Senate floor that seemed impossible earlier in the week. He was silent. Cruz made no floor statements, and he took his time deciding whether to back Rubio's vote; observers in the Senate watched him hang back, reading the text, before delivering his "aye." He didn't mention that vote in his final statement on the budget. "Given the gravity of the debt facing our children and grandchildren, I believe that Americans expect us to do more," he said, explaining his "no" vote. "We need meaningful entitlement reforms, without budget gimmicks."
Yet Cruz did not vote at all on a proposal from Utah Senator Orrin Hatch to create a reserve fund for Social Security, or a proposal from Oregon Senator Ron Wyden to create a point of order on legislation that would cut entitlements. Amendments previously proposed by Cruz, including one to bar "further regulating political speech on the Internet" and one to "implement work requirements for able-bodied adults without dependents" in welfare did not receive votes.
Lindsey Graham
He voted for Rubio's defense add, not for Paul's; he'd previously said he was open even to tax increases. "In 2011, when Congress passed and President Obama signed the sequester into law, ISIL did not exist as a major threat," Graham said in a statement. "Today, there are more terrorist organizations with more capabilities, more arms, more recruits, and more safe havens to attack the United States than any time before 9/11. I believe the passage of this provision will be welcome news to those charged with protecting our nation."
All of the 2016 Republicans opposed an amendment that would have granted Social Security and veterans benefits to same-sex couples. And all of them voted for Orrin Hatch's prohibition on advertising marijuana edibles to children–the whole Senate did, as the measure passed by unanimous consent.
Bernie Sanders
As ranking member of Budget, Sanders had been using the debate of the last month to promote progressive tax and entitlement ideas. (Any reporter who tried to bug him about Hillary Clinton's e-mails quickly got an answer about the budget.) Sanders generally hung back, getting every Democrat and two Republicans (Maine's Susan Collins, Ohio's Rob Portman) to back a minimum-wage amendment, and getting five Republicans and all but two Democrats (North Dakota's Heidi Heitkamp, West Virginia's Joe Manchin) to back a statement endorsing the reality of climate change.
Elizabeth Warren
No, she's still not running for president, but Warren got all but two Democrats–Delaware Senator Tom Carper and North Dakota Senator Heidi Heitkamp–to back an amendment co-sponsored by the far more conservative West Virginia Senator Joe Manchin, to expand Social Security payments. That idea, introduced as legislation by Iowa Senator Tom Harkin in the last Congress, moved from the fringes to Democratic policy with lightning speed.
Before it's here, it's on the Bloomberg Terminal.
LEARN MORE